There is a very fine marble monument to Assheton Viscount Curzon on the north wall of the chancel in Penn Church. He inherited Penn Manor in 1756 through his grandmother Sarah Penn while his elder brother inherited Kedleston in Derbyshire. He held the Penn estate, and so appointed the vicars of Penn, for 64 years.
Penn House was let to the Clarke family from the 1760s onwards and the Vicar, John Middleton reported that Assheton Curzon had 'pulled down nearly two thirds of Penn House and refitted the remainder as a country house to which he might retire occasionally during the sitting of Parliament'.    His other residence was Hagley Hall, near Rugeley, which he purchased in 1752 (before inheriting Penn) and then remodelled. His London house was 7, Davies Street, Mayfair.

It was natural that he should have regarded Penn as his family home, since that is where his paternal forebears had lived for many generations. He and his close family (3 wives, 2 children, 2 grandchildren and his daughter-in-law) are all buried at Holy Trinity, Penn and commemorated by expensive wall monuments.  
He was an MP for a family seat in Clitheroe in Lancashire and seems to have had a very successful career being created Baron Curzon of Penn in 1794 and Viscount in 1802. He married three times with all his wives predeceasing him. His hatchment is on the south wall of the south aisle. He was succeeded by his young grandson whose other grandfather was Admiral Earl Howe.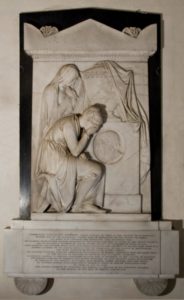 The monument is by Sir Francis Chantrey (1781-1841) who is deemed to have been the greatest English sculptor of his generation. One of his first commissions, in 1808, was to make four colossal busts for Greenwich Hospital of the four most famous admirals of the time, Duncan, Howe (Earl Howe's forebear), Nelson and St Vincent.
The son of a carpenter near Sheffield, he was apprenticed to a wood carver and gilder but bought himself out to paint portraits until he could try his fortune in London. He was thus a man of little education and had no training as a sculptor. His manners were rough and his language strong but he had immense natural talent and by the 1820s he had a large and distinguished practice for statues, busts and church monuments. He had an astonishing ability to express in marble the softness of flesh, while at the same time retaining the sense of the bones beneath.
He was the only sculptor to have recorded (and each on several occasions) four successive reigning sovereigns, George III, George IV, William IV and the young Queen Victoria. His work can be seen everywhere, including in Windsor Castle, Buckingham Palace and Westminster Abbey.  There is a fine mounted statue of George IV in Trafalgar Square.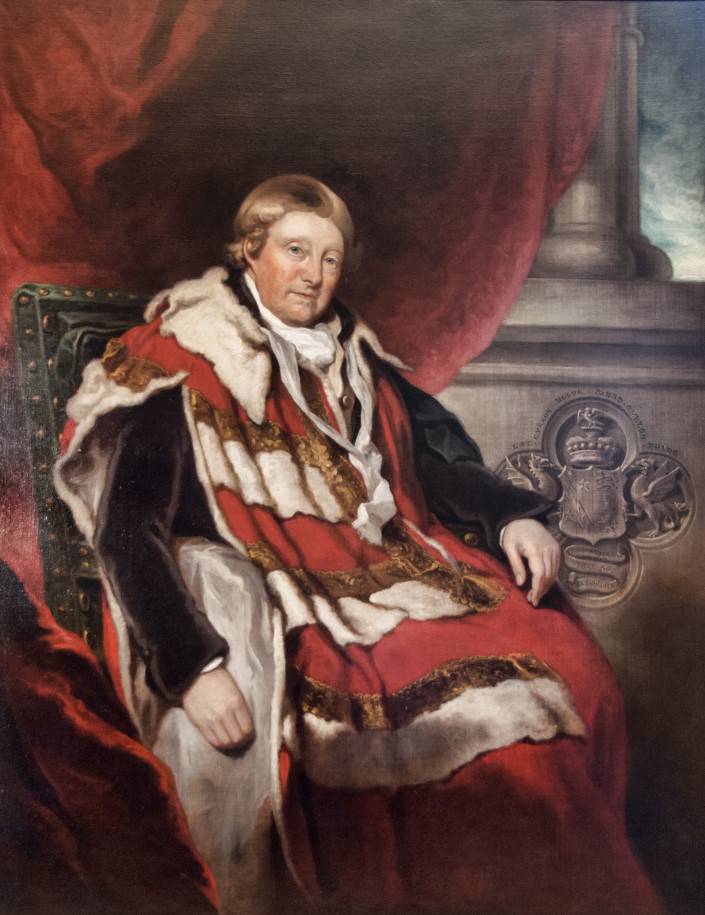 The monument is in a design much favoured by Chantrey showing two weeping women in classical Greek costume looking down at a profile portrait of Viscount Curzon. Above the profile is a large decorative urn embossed with a shield bearing the Curzon coat of arms, differenced with a crescent to show a second son. Above the shield is a  viscount's coronet surmounted by a popinjay and below the shield is motto below, 'Let Curzon holde what Curzon helde'. There is a long inscription below the monument which describes his ancestry and his three marriages and their children. The accuracy of the profile can be tested against the portrait of Viscount Curzon in his peer's robes, painted by Devis in 1818 and now in the ownership of Earl Howe.

See also No 43: Viscount Curzon 1729-1820
© Miles Green, Penn Parish Newsletter, No.2, February 2008
Photographs © courtesy Eddie Morton ARPS