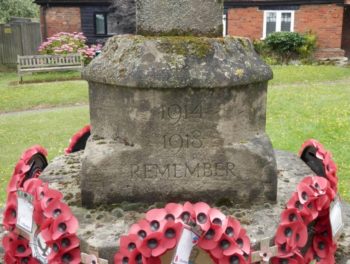 On 11th January 1919, a public meeting was held in Penn to discuss a suitable memorial to the men of the village who had died in the Great War. Penn had lost 22 of its sons out of a village population of around 1000, slightly higher than average for Britain. A war memorial was an important focus for mourning, as most of those who had died were buried overseas, in Nigeria, Salonika and Gallipoli as well as France and Belgium. A committee was formed, including at least three bereaved parents; one, Mr Busby (Penn Parish Clerk), had lost three sons, Fred, Willie and George. The memorial was to be funded by public subscription, and the substantial sum of £371 8s 8d was quickly raised, with donations ranging from 2d to £20.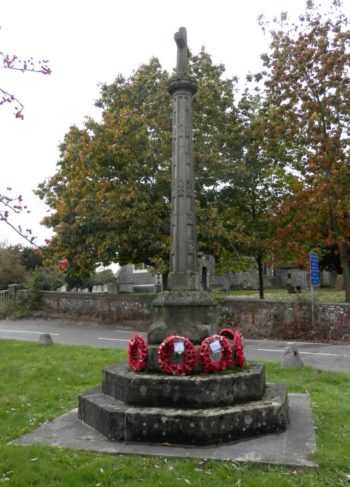 At the meeting, Lord Howe promised to donate the piece of land adjacent to Holy Trinity church (formerly the site of the village stocks), on the condition that the memorial take the form of a cross. The committee engaged an architect from London, Mr Eden, and embarked on a lengthy deliberation of designs before settling on a simple cross on an octagonal plinth, with the inscription '1914 1918 REMEMBER'. The committee took care that 'the wishes of Penn Village should have first consideration in the choice of the Memorial as most of the men in whose memory it was to be erected came from Penn Village itself.' The memorial was unveiled at an opening ceremony on 10th April 1921 by Field Marshall Sir William Robertson.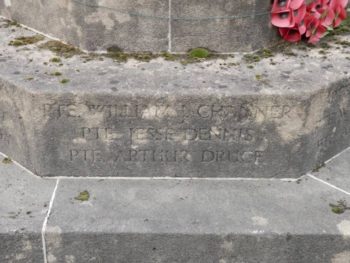 The erection of the memorial is a telling indication of the village hierarchy that existed at the time. Not only was the committee led by the village gentry, but this class consciousness was preserved in the inscribed roll of names around the plinth. The Imperial (later Commonwealth) War Graves Commission had decided that names on their memorials would be inscribed alphabetically, regardless of rank, but names on the Penn memorial are listed in order of rank, from a Lieutenant-Colonel down to the Privates. What the memorial does not show, of course, is those who returned home disabled, scarred physically or mentally by their experiences of war.
Amy Lim, September 2015
Unveiling of Penn war Memorial
A photograph of the unveiling of the Penn War Memorial by Field Marshall Sir William Robertson on 10th April 1921 has recently been found in The Sphere magazine of April 23rd 1921.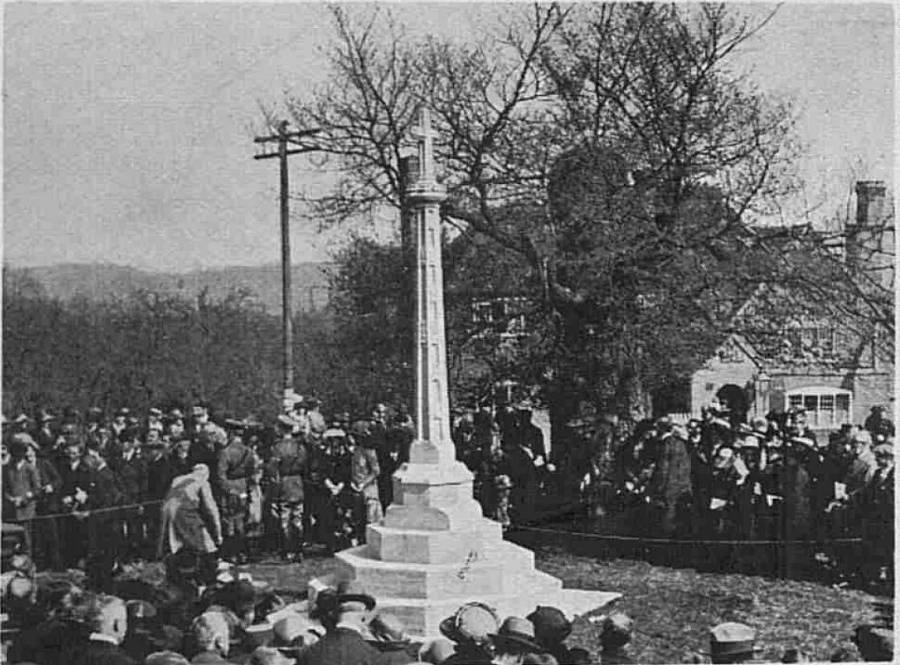 The following men are remembered on the Penn WWI War Memorial


Private Albert ALLEN, TF3464, Middlesex Regiment 1/8th Battalion
Died of wounds France, 02 Jul 1916, Aged 22, Occupation; Gardener
Etretat Churchyard, Seine-Maritime, France, Memorial Reference II.E.18
Born c1894 Beaconsfield or Penn, Baptism, 10 Jun 1894, Penn HT
Parents George Arthur & Ellen Allen, Gardener, Knotty Green.

Private Norman Lionel ATKINS, Rifleman 9668
City of London Regiment (London Rifle Brigade) 1/5th Battalion
Died of wounds, received in Flanders (Ypres), 7 December 1914, Aged 19
Bailleul Communal Cemetery (Nord), A.21, France, 14.5 Km SW of Ieper, Belgium.
Born: 29 Jan 1895, Penn, Occupation: Clerk, Western Telegraph Co
Parents: Arthur Harris Atkins (dec'd 1901) & Fannie Alice Atkins, Yew Tree House, Penn 

Major Richard Spencer BRITTEN, Deputy Asst. Director Remounts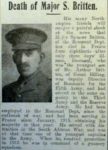 Enlisted, Royal Buckinghamshire Hussars, Remounts 5th Army HQ.
Died of Diptheria, 18 Aug 1918, in France, Aged 40.
Buried: Aire Communal Cemetery, Pas de Calais, France, IV.B.30
Born c1878, Great Billing, Northants. Served in the Boer war.
Son of Arthur Britten, farmer, & Ellen Brain Britten nee Wells
Wife: Gladys N Britten née Grove, of 'Watercroft', Penn.
More in 'P&TG in the Great War & the men who did not return'
Photograph, Northampton Independent, 24-8-1918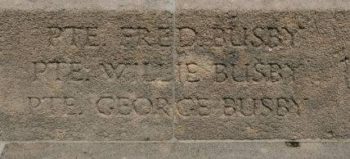 Private Frederick (Fred) BUSBY, 16009
Wiltshire Regiment 10th Entrenching Bn.
Killed in action Salonika, 24 Apr 1917, Aged 24.
Doiran Military Cemetery, Greece, III.A.30
Occupation: Gardener; Chorister and bell-ringer at Penn;
Second son of Alfred & Emma Busby, brother of Willie and George.
His father Alfred was Penn parish clerk for over 50 years.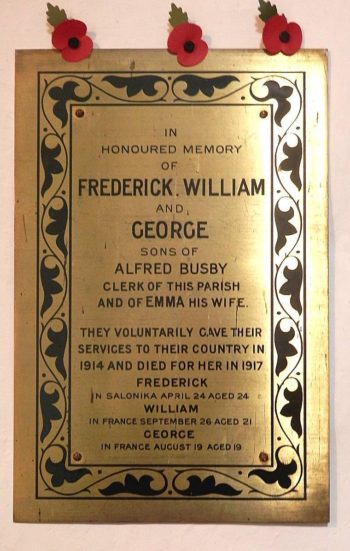 Private William Albert (Willie) BUSBY 38420
Gloucestershire Regiment 2/6th Battalion
Killed in an accident, 26 Sep 1917, Aged 21,
Sunken Road Cemetery, Fampoux, France, I.B.17
Worked as a gardener at Troutwells, chorister at Penn.
Third son of Alfred & Emma Busby, brother of Fred and George.
Private George Alfred BUSBY, 20720
Oxford & Bucks Light Infantry 5th Battalion
Killed in action, Battle for Langemark, 19 Aug 1917, Aged 19,
His grave was lost. Commemorated on Tyne Cot Memorial,
Panel 96 to 98, Zonnebeke, West-Vlaanderen, Belgium
The plaque in the church erroneously shows France, not Belgium
Fourth son of Alfred & Emma Busby, brother of Fred and Willie
Private William John CHANNER, S/33857
City of London Regiment (London Rifle Brigade) 4th Battalion
Died at sea, on HMMS Wandilla between Beirut and Alexandria, 17 Nov 1918, Aged 30. Born June 1888, Kennington, Pre-war occupation: Cab Proprietor.
Parents Ambrose & Harriet Eliz Channer née Johnson.
Ambrose was born in Penn.
Parent's address: 1911: 4 Wigton Place, Kennington, London. Cab Proprietor.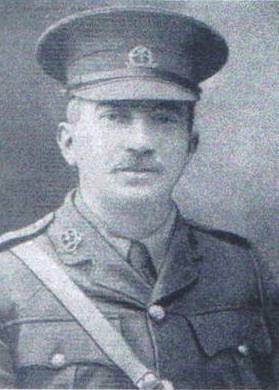 Captain Gordon CUTHBERT
Middlesex Regiment 1st/8th Battalion
Born 14 Aug 1876, Charlton near Sunbury, Middx.
Educated Clifton College, Bristol. Occupation – Oil & Tallow broker. Husband of Eleanor Bruce Ankertell Cuthbert, Drews, Knotty Green.
Parents – Henry Westell & Rose Isabell Douglas Cuthbert
Killed in action, 25 Apr 1915, Ypres, Aged 38.
Ypres Menin Gate Memorial, Ieper, Belgium, Panel 49 & 51.
There is a memorial plaque in Penn Church, On the South Aisle wall.
(Photograph, Ron Saunders, Western Front Association Journal, Stand To, Issue 57)
Private Jesse DENNIS, 24844 Grenadier Guards 4th Battalion
Killed in action, Ypres, 21 Jul 1917, Aged 33.
Bleuet Farm Cemetery, I.G.10, Ieper, Belgium.
Born, June 1884 Penn, Occupation: Bricklayer.
Parents Frederick & Jane Dennis, Carpenter, Old Reading Room Cottage, Penn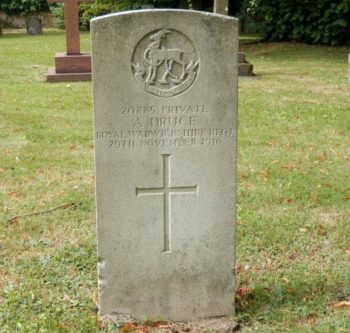 Private Arthur DRUCE, T/20885
Royal Warwickshire Regiment 8th Battalion.
Died, aged 18, 29th November 1916, Chatham hospital,
of wounds received in the Somme.
Born 12th March 1897.
Son of Charles Druce, Coal Merchant, and Ellen Dennis
Worked as cowman at Puttenham Farm, Penn
and carter to Mr Jefkins of Lude Farm Wooburn.
Given a full military funeral at Penn (Holy Trinity),
Buried in Churchyard, north of chancel.
In the churchyard, near the North boundary wall, there is a headstone to: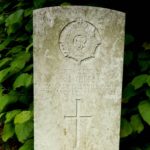 Driver Frederick John GIBBS,
T/277540 Royal Army Service Corps, 2 Company
CWGC grave stone reads: 'Died 7th January 1919 age 27'
Death Certificate reads: '7th January 1920, Age 35.
Tubercular Laryngitis, Mary Gibbs present at death, Beacon Hill, Penn. Certified by the local Doctor G. Smith Wynne'.
Son of Henry James Gibbs (Dec.d) & Mary Gibbs née Cannon, of Penn. Frederick's wife, Ada Kate Stickland, & 3 children, were living in Southampton, 1911.
(Thanks to Ron Saunders for death certificate, and this information)
Private Harry HILL
No Information.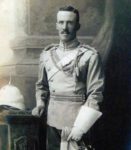 Major Arthur F. HENDERSON,
Indian Light Cavalry / 27th Battalion
Educated: Haileybury and sandhurst. GSO2 to Gen Gough.
He fell attempting to save a wounded officer near the Conde Bridge at the Battle of the Aisne Sept. 12th 1914. Aged 39
His grave was lost, Indian Memorial, Neuve-Chapelle, France, Panel 2
More about Major Henderson in: Western Front Association
Born: 21 Nov 1874, Shanghai, China
Son of Doctor Edward & Mrs Henderson, Lexham Gardens, London W
Husband of Muriel Henderson, née Hanbury, 'The Knoll', Paul's Hill.
More in 'P&TG in the Great War & the men who did not return'
There is a memorial plaque in Penn Church, above the pulpit.
Brevet Lieutenant Colonel Hugh HILL M.V.O. D.S.O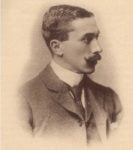 Royal Welch Fusiliers, General Staff. Born May 16th 1875.
Killed in action in France, Sept 10th 1916, aged 41.
Bethune Town Cemetery, Pas de Calais, France, III.K.40
Only son of the late James Eardley Hill, Barrister at law,
and Katharine Shepperson (re-married) of Penn parish.
Grand-son of the late Sir Hugh Hill, Knt, a judge of the Queen's bench, of Graig, Doneraile, Co. Cork, formerly of Pipe Staffordshire. Educated Lockers Park, Rugby and Sandhurst, and served in the South African War, 19001-1901.
More information in 'P&TG in the Great War' & Buckinghamshire Remembers
There is a memorial Window in Penn Church to Lt. Col. Hugh HILL
Private William H. (Willie) JAMES, 17051,
Northamptonshire Regiment 1st Battalion
Killed in Action, Somme, No known grave, 17 Aug 1916, Aged 19
Thiepval Memorial, Pier & Face 11A & 11D, Somme, France
Born, c1897 Beaconsfield,
Parents: William Alfred & Sarah Elizabeth James, Carter, Forty Green, Beaconsfield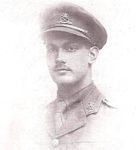 2nd Lieutenant Richard Bartlett MELLARD,
North Staffordshire Regiment 1/5th Battalion
Killed in action leading his bombing platoon at Gommecourt July 1st 1916 aged 22. No known grave. Memorial Gommecourt Wood New Cemetery, Foncquevillers, France
Born c1894 Newcastle under Lyme, Staffs, he emigrated to Winnipeg to farm and enlisted as private in the Fort Garry Horse in Canada, returned to UK with the Canadian Expeditionary Force. Promoted Lt.  in British Army in August 1915.
Parents Richard Bartlett Mellard, (4 times Mayor of Newcastle u Lyme.)
& Annie Beatrice Mellard, née Mosley, who moved to Nottingham, and later
'Grass Side', Church Rd, Penn, after the death of her husband in 1907.
Richard is listed as an old boy of Newcastle & Nottingham High Schools.
More details: Nottinghamshire CC, Roll of Honour
(Photograph, The Old Boys of Nottingham High School)
Private Albert PARKER, G/8083, Middlesex Regiment 4th Battalion
Killed in action, Bellewaarde Wood, Ypres, 29 Sep 1915, Aged 31
No known grave, Menin Gate Memorial, Ieper, Belgium, Panel 49 & 51
Born, c1883 High Wycombe, Occupation: Butcher
Parents William & Jane Parker, French polisher, 55 Richardson St, High Wycombe
Wife Mary Parker, Forty Green, Beaconsfield.
Brother of Bernard Parker (High Wycombe War Memorial)

Lieut. Derek Weatherall PAWLE, Captain 2nd Batt: Border Regiment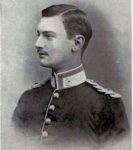 attached to the Northern Nigeria Regiment.
killed in action 2nd April 1915, aged 27,
defending Fort Gurin Cameroons.
Buried at Yola Station Cemetery, Adamawa State, Nigeria.
Son of Lewis Shepheard Pawle and Angelina Burgess Pawle,
of Hutchins Barn, Knotty Green.
There is a memorial Window in Penn Church to Lieut. Derek PAWLE
Private Arthur Henry PERFECT, 17287, Hampshire Regiment 2nd Battalion
Killed in action Gallipoli, 06 Aug 1915, Aged 20
No known grave, Helles Memorial, Turkey, Panel 125-134.
Born: c1895 High Wycombe, Baptised Penn, 2 June 1895
Parents: Frank & Harriett Perfect, Gardener, Penn  

Private Alfred Hedley SIMMONDS, 8331,
Oxford & Bucks Light Infantry 2nd Battalion
Killed in action, Langemarck trenches, Ypres, 01 Nov 1914, Aged 22
Born c1892 Penn, One of eight children, Occupation: Farm labourer.
No known grave, Menin Gate Memorial, Ieper, Belgium, Panel 37 & 39
Parents: John & Charlotte Simmonds, Farm labourer, Beacon Hill, Penn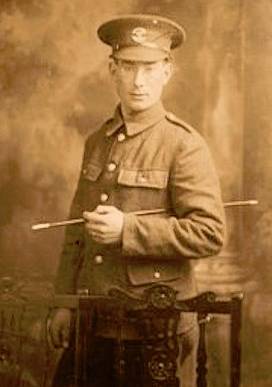 Private Henry John (Harry) SIMMONDS, 633438
London Regiment 20th Battalion
Killed in Action,  Somme, 01 October 1916, Aged 22
Thiepval Memorial, Somme, France,
Pier & Face 9D,9C,13C,12C
Born c1894 Penn? Occupation: ?
Younger brother of Alfred Simmonds, Penn.
Parents John Henry & Charlotte Simmonds, Farm labourer, Beacon Hill, Penn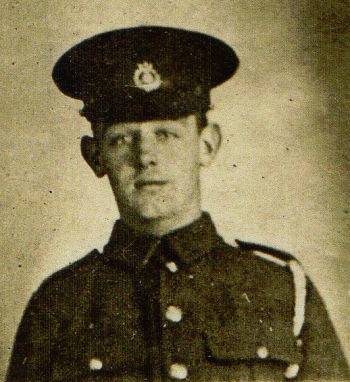 Private Albert SMITH, CH610(S)
Royal Marine Light Infantry Chatham Bn RN Division
Killed in action Gallipoli, 6 June 1915, Aged 17
Lancashire Landing Cemetery, Turkey, B.65
Born: 24 Jan 1898, Penn, Occupation: Furniture factory apprentice.
John & Sarah Annie Smith, Wood labourer, Pennleigh, Penn
Half brother of Arthur Smith on Haddenham War Memorial.
Apprentice with Randall Bros, High Wycombe.
Lieutenant Harold WILLIAMS,
Royal Fusiliers (London Regiment) 1st Battalion
Killed in action France, 7/8 Oct 1916, Aged 30,
Thiepval Memorial, Somme, France, 9D & 16B
Born c1886 Sutton, Surrey, Pre-war occupation Standard Bank, Rhodesia
Parents: Edwin & Florence M Williams, Latimers, Beaconsfield
Volunteered for service in S Africa 1914 but rejected. Paid passage home in 1916 & enlisted.

The information above is from June and Peter Underwood's comprehensive website Buckinghamshire Remembers, and the detailed 'Penn & Tylers Green in the Great War and the Men Who Did Not Return', by Ron Saunders, published by the Penn & Tylers Green Residents Society.