At about 7am on Saturday, 12 August 1944, a number of High Wycombe residents became aware of an aircraft overhead that was obviously in trouble – the more knowledgeable recognised it as a B17 bomber. Heading south, one of the four engines was clearly on fire and as the Flying Fortress turned 180 degrees to the east, flames started in another one.
Along the valley, at Lude Farm, Penn, the farmer watched the unfolding horror as the B17 skimmed over his farmhouse and crashed into open farmland beyond. In the massive explosion and fire that followed, the crew of nine all died instantly. The farmer's son Ron Setter, who was then aged 12, later recounted how the force of the blast brought the ceiling down on him as he was getting out of bed and also broke every pane of glass in the farmhouse except one.
The B17, attached to 398 Bomb Group, had been named 'Tomahawk Warrior' by the pilot Charles Searl after the small town in Wisconsin where he lived. On the fateful morning, they had taken off from their airbase near Royston in Hertfordshire on a mission to Versailles and Caen – their 25th assignment over France and Germany since arriving in England in March.
It is generally accepted that the pilot deliberately turned his aircraft away from High Wycombe to avoid hitting the populated area, almost certainly saving many British lives in the process. The nine men, from Wisconsin, Massachusetts, Michigan, Washington, Virginia, Arkansas, New York and Ohio, aged between 20 and 27, were buried in Cambridge American Cemetery, but after the war, in accordance with the wishes of their relatives, eight were reinterred in Arlington Military Cemetery in Washington DC. The ninth, at his parents wishes, remains in England.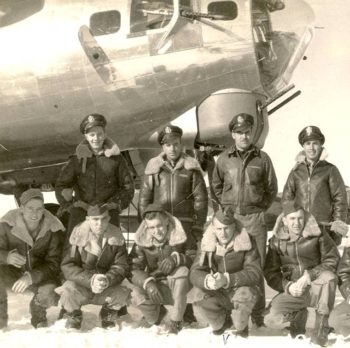 Back Row (viewer's left to right):
2nd Lt. Leo C. Walsh, Bombardier
2nd Lt. Albert L. Dion, Co-Pilot
2nd Lt. Charles J. Searl, Pilot
2nd Lt. Saul J. Kempner, Navigator
Front Row (viewer's left to right):
Sgt. Orville M Wilson, Waist Gunner
S/Sgt. James A Beaty, Engineer
Sgt. Alfred Bueffel, Ball Turret
Sgt. Albert W. Knight, Waist Gunner
Sgt.  Cecil E. Kennedy,  Radio
The short entry in official records of their air base reads 'Take off 06.18 hours. 07.20 no return.' Such a brief epitaph, but now they are remembered both at Penn and Tomahawk as heroes 'who laid down their lives'. Jesus said 'greater love has no man than this'.
Postscript
Farmer's son, Ron Setter, said that the events made a deep impression on him and after the war he kept in touch with the airmen's relatives and, with the help of the Revd Oscar Muspratt, entertained them on visits here including, in 1990, a visit by the 398 Bomb Group Memorial Association when Remembrance Services were held in Penn Church and on the field at Lude Farm where the men had died.
December 2011
Remembrance Sunday, 10th November, 2019
The heroic sacrifice the nine men made has this week been officially recognised, more than 75 years after the died.
At a ceremony at Penn House on Remembrance Sunday, Bucks County Council chairman Brian Roberts presented three ceremonial scrolls, one to the nieces of one of the fallen crew, one to Penn Parish Council and one to David Huntley, who personally witnessed the horrifying crash and was the inspiration behind the ceremony.
Cllr Roberts said: "We are here today to pay tribute on behalf of the residents of Buckinghamshire and to give our heartfelt thanks to the crew of the Tomahawk Warrior who all lost their lives when their B17 Flying Fortress crashed at Lude Farm in August 1944.
"Their actions, which ended so tragically for them, ensured that many more lives were not lost. As a result of their ultimate sacrifice in finding a safe place to crash, the nine young crew are remembered in the history of Penn forever."
Bucks Free Press, 15th November 2019
---
Their photograph stands by the WW2 war memorial in Penn church and they are remembered every year on Remembrance Sunday.
The following are the names of those that died that morning —
Pilot. Charles Searl from Wisconsin
Co-Pilot. Albert Dion from Massachusetts
Navigator. Saul Kempner from Michigan
Bombadier. Leo Walsh from Washington DC
Radio/Gunner. Cecil Kennedy from Virginia
Engineer/Top Turret Gunner. James Beatty from Arkansas
Ball Turret Gunner. Alfred Bueffel from New York
Right Waist Gunner. Albert Knight from Ohio
Left Waist Gunner. Orville Wilson from Washington DC
The event is documented in more detail on the American Air Museum in Britain web site, and on the 389 Bomb Group Memorial Association web site.
Official Accident Report
– View as PDF in new window
No official investigation into the causes of the crash was ever carried out. Information disclosed several years later suggests that there may have been a mid-air collision with a Liberator bomber which crashed at about the same time just 28 miles away near Cheshunt.The massive explosion on impact killed all nine crew but there were no casualties on the ground. Ironically the whole event would have been tracked from the 8th Air Force HQ at Daws Hill in High Wycombe and later that afternoon Commander-in- Chief General James Doolittle came to survey the wreckage.
None of the crew had attempted to bale out and no distress signal had been sent.
John Gurney, Bucks Free Press, 15th November 2019