The Reverend Jeffrey Pierce was educated at Watford Grammar School and is a graduate in Chemistry of London University.
He worked for Glaxo from 1957 in Commercial Development, Marketing, Materials Management and Pesonnel, and was lately a director of subsiduary companies of the Glaxo group, including a period in Nigeria as Managing Director.
After his ordination training on the Oxford Ministry Course, he was licensed as a non-stipendiary minister to his home parish of Great Missenden. He is now appointed to Penn for one year initially, and although he will not be living in the vicarage, he will have an office on the first floor of the Church hall.
Penn Church Newsletter, December 1993.
Fond farewell to Penn's first non-stipendiary minister
The Rev. Jeffrey Pierce retired at the end of October after four highly successful years as priest-in-charge, very actively supported by his wife, June. He was the fIrst non-stipendiary minister, i.e. unpaid volunteer, to be appointed to Penn and came from a long and successful career with Glaxo Pharmaceuticals.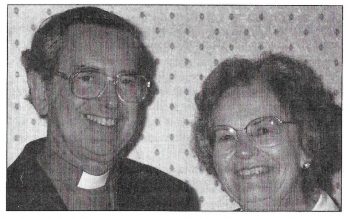 Much genuine warmth and regret attended their farewells. Jeffrey was presented with a Yamaha Clavichord, a super-sophisticated kind of electronic piano; June with two huge garden urns and a three year membership of the Royal Horticultural Society.
They left for a cruise ship and a tour of the Holy Land led by a retired bishop who also happened to be a former school friend and their best man. They will keep their house in Manor Road and look forward to helping again at Penn after the three months absence sensibly required by church regulations to allow their successor time to settle in.
The Rev. Carol Williams, another non-stipendiary, whom we introduced in the Spring edition of Village Voice, has been working hard to make The Vicarage in Paul's Hill habitable. By the time this issue appears, her licensing service will have taken place on November 17 and Penn' s first woman priest will be installed. We wish her well.
Miles Green, Village Voice – Christmas 1997