How old is our Church?
This is a question that we ask of any church, and the older the church, the more meaningless the question becomes. Churches grow and change throughout the centuries reflecting both the size and wealth of the population, and changing fashions of architecture and worship. Thus parts of Penn church belong to each of the preceding centuries and we have to ask instead, what is the oldest visible part of the church, and probably with a different answer, when was a church first built on this site?  What we can be quite sure of is that the earliest forerunner of today's church would have been unrecognisably different. Much smaller for a start.
Dr. Clive Rouse, who lives in Gerrards Cross is one of the country's leading experts on old churches. It was him that painstakingly re-assembled the Doom painting when it was mistakenly crow­barred out of its place above the chancel arch in 1938. I went to see him some years after and he was quite clear that the yellow mortar in the north wall of the nave (the wall you see as you approach the church) suggested 12th century work. He was able to say this as a result of working on many of the churches in this area.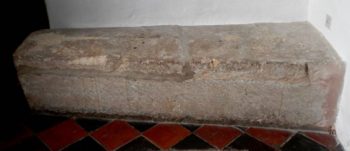 This dating is supported by the 12th century font of which the stem and base are of Purbeck marble, and to some extent by the stone coffin just outside the vestry, which is thought to be early 13th century.  (I always enjoy the comment of the vicar of 1883 who noted of the stone coffin, that, 'there are no present contents!')
Written records of this period are scanty, and there are almost no parish churches which can lay claim to a recorded foundation date. However we do have some unusually significant dates for Penn. The Cartulery of Missenden Abbey records 'Hugh, Clerk of Penn' as a witness to an agreement in 1183.  Clerk was the term used then, as it still is today in legal documents, in the sense of cleric, and so Hugh is the first recorded priest in Penn. 'Walter de la Penn' appears on a record in 1194 and is referred to as clerk of Penn in 1200. The celebration of the 700th anniversary of the church, which was marked in by the putting up of the Iych gate in 1913, thus seems to have been decided more on the grounds of convenience than of history.

Perhaps the most intriguing clue is provided by a letter written in 1802 by the Rev. John Middleton, who was curate and then vicar between 1766 and 1800. In his letter to Lyson, the author of Magna Brittanica, of which I have a copy, he says he saw the date 1177 on a foundation stone whilst the Curzon vault was being dug under the chancel in 1797.
I shall examine this claim more closely in the next article.
© Miles Green, January 1996