We do not know whether today's church was the first to be built on the same site but we can propose, with some confidence, that the earliest church in Penn was on Church Knoll, half a mile away in the valley to the north east.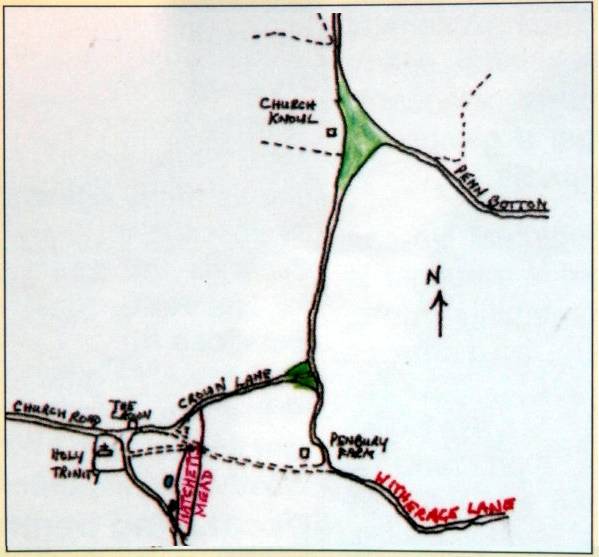 The name itself offers the best evidence. The earliest written reference to it that I have seen is only mid-17th century but long-standing local place and road names can be taken seriously. Many have survived accurately and tenaciously over many hundreds and sometimes thousands of years. It does not matter that the society may well have been illiterate since illiteracy is particularly conducive to accurate oral transmission.
There is also very convincing support from the pattern of roads and footpaths which, in ancient countryside such as Penn, are very good indicators of settlement. I suggested in an earlier article (part 3) that prior to the connection with Taplow, Penn was part of a Saxon royal estate centred on Burnham. The focus of roads into Penn from Bumham, via Beaconsfield, is on Church Knoll.
Until the 1840's, Witheridge Lane, the main road that we now drive along from Beaconsfield, turned off at Penbury Farm which was, according to its name, the fortified manor house of Penn. Witheridge Lane continued on down to Church Knoll, then turned sharp left up the valley to 'Withiheg', a croft which is recorded in 1199 as belonging to the Turvilles, the overlords of the de la Penne family, which we now know as Puttenham Farm. Thus Witheridge Lane is so named because it led to Withiheg and Crown Lane was the only road up to today's church from the Beaconsfield direction.
In the same way, the tortuous route between Penn church and Taplow, via Paul's Hill, suggests that the manorial link between Penn and Taplow was later and artificial.  Elsewhere I have suggested it may well have been a military connection.
Another pointer to the secondary nature of the settlement around Penn church could be that it seems never to have had its own name in the same way as other hamlets like Knotty Green, Forty Green and Tylers Green. We assume today that it is called Penn but Vestry records refer to the area as Penn Church, reserving Penn for the parish as a whole.
The Tithe Map of 1838 shows about 50 acres of woods and fields along Penn Bottom up to Church Knoll all sharing the name Downham (Downham Grove still appears on modem maps). Downham may possibly have been the earlier name for a Saxon hamlet around Church Knoll which sits on (still) common land right at the centre of the parish, overlooked by the fortified manor house at Penbury. We would need an earlier spelling to know whether Downham meant 'hill village' (down ham) or 'at the hills' (dunum).
© Miles Green, October 1996