Holy Trinity, Penn, New Churchyard, Plot 48.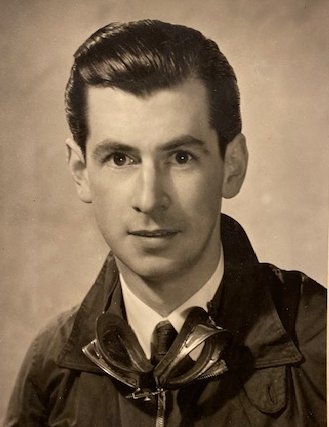 David Moffat Drummond Blakely, (17th June 1929 – 10th April 1955), received unwanted notoriety when he was murdered by Ruth Ellis, and the newspaper coverage that followed. David was born in Ecclesall, Sheffield, his father was a Scottish born doctor and his mother was Irish and came from Ballynahinch. His parents later divorced, and David's mother Anne remarried, to Humphrey Wyndham Cook in 1941.
David was educated at Shrewsbury, and after his National Service in the Highland Light Infantry, whose insignia appears on his tombstone, he looked at a career in hotel management, but left that and concentrated on his real interest which was racing cars.  Initally his beloved HRG racing car, HLO 168,  replaced by the 'Emperor' in 1954, in which he took 2nd place at Brands Hatch on Boxing Day, 1954. Both cars were serviced and race prepared by Len Gibbs at Slade's Garage, in Penn.
David was an up and coming motor racing driver, encouraged and financed by his step-father Humphrey Wyndham Cook, who was a motor racing driver in the 1930's. From 1933 to 1939, Humphrey Cook financed the development of the ERA (English Racing Autombile) with Raymond Mays and Peter Berthon, with the objective of devloping a world beating racing car and in 1934 Humphrey Cook won a handicap race at Brooklands with an 1,100cc ERA.
David's racing results 1951 to 1953 show 1st, 3rd, 4th and 6th place results at National race meetings at Silverstone and Goodwood driving the HRG lightweight HLO 168.
Then follows 1953 – 1954 driving the Leonard/MG with some 3rd and 5th placings. From October 1954, David was driving the 'Emperor' a HRG Twincam, and 26th December 1954 he achieved 2nd place at Brands Hatch. He was booked to race at the Goodwood Easter meeting 12th April 1955, 2 days after his tragic death.
David Blakely lived with his mother Anne and her husband, Humphrey Wyndham Cook, (who she married in 1941), at The Old Park, Hammersley Lane, Tylers Green, which had been the WW2 retreat of Walter Delamare and his wife Elfrida.  Humphrey, Anne and David later moved to The Orchard on Beacon Hill.  The original Old Park house was pulled down in 2008 and replaced by a very contemporary house.
Humphrey Cook made a generous donation to the New Churchyard appeal in memory of his wife Anne, and her two sons, John and David, though only Anne is remembered on the 1978 completion plaque inside the New Churchyard wall.  Humphrey and Anne Cook are buried together in the New Churchyard, Plot 30.  David's elder brother  Brien Blakely (1920-1963)  was a Royal Naval pilot in WW2, flying Torpedo bombers (probably Fairey Swordfish).  He was a prisoner of war for several years and died from encephalitis aged only 43, he lies next to David in plot 49.
Their eldest brother Derek, was a WW2 RAF pilot, awarded the DFC, and joined BOAC after the war, rising to Senior Captain.  Their sister Maureen, was a Wren, working at Bletchley Park during WW2 and married a US Naval Lt. Commander in July of 1945 and emigrated to America.  The ashes of the children's nannie, Beatrice Holman, who originally joined the family in Sheffield, are next to David, John, Anne and Humphrey, in Ashes plot 151.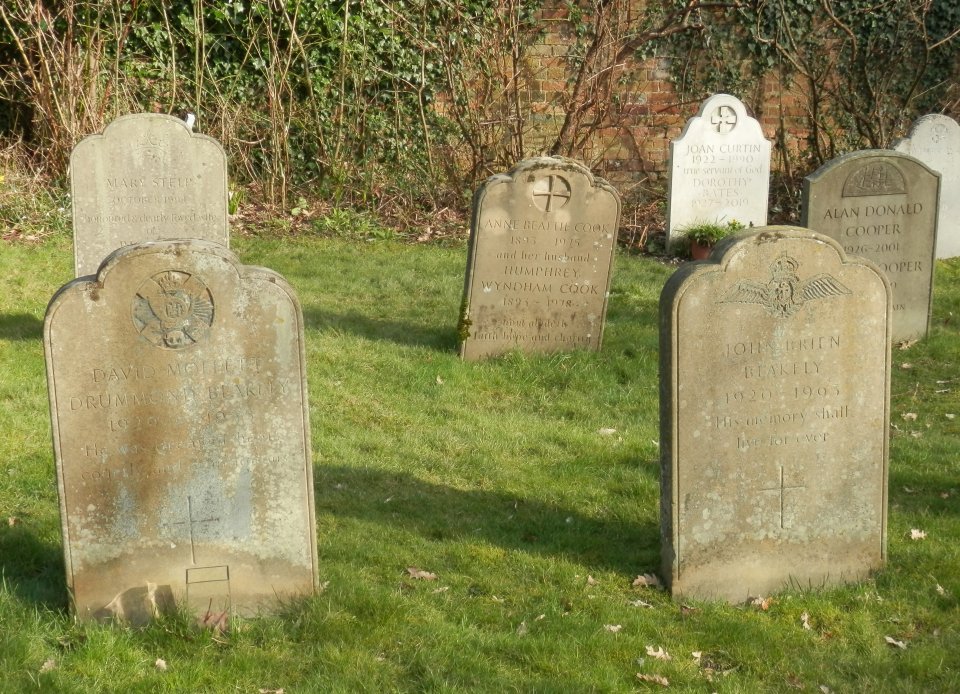 Many thanks to David's American nephew Derek, who provided family history and photographs ©.
See Also: Racing Drivers of Penn: David Blakely