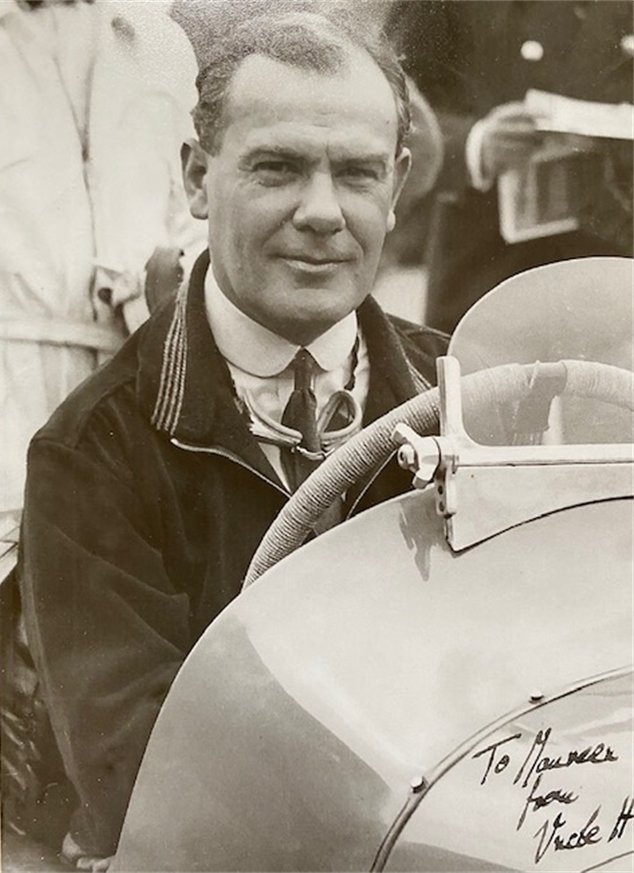 Humphrey Wyndham Cook, born in Chelsea 16 March 1893, lived at The Old Park, Hammersley Lane, Tylers Green from 1941 and later at The Orchard, Beacon Hill, Penn. He also had a flat at 38 Upper Brook Street, London W1, and was educated at Harrow and Oxford University.
David Weguelin, who interviewed Humphrey Cook at his flat in Chelsea in 1976, described him as "a large, shy and very modest person" who had "inherited a large fortune at the age of twelve when his father died leaving him the thriving family wholesale drapery firm – Cook Son & Co. of St. Paul's Churchyard. However, an early visit to his father's business convinced the young Humphrey that he did not wish to pursue a career in drapery or anything else for that matter."
He began motor-racing in 1914 at Brooklands motor circuit, Weybridge, with a 10.6 litre Isotta Fraschini painted in black and red stripes. Red and black became his racing colours and in 1921 raced a Vauxhall 30/98 known as "Rouge et Noir".
In 1922 he raced one of the powerful 5-litre, 8-cylinder Ballot cars built for the 1919 Indianapolis race (incidentally this car, No. 1003, was based in Penn from 1937 when it was acquired by Anthony Heal and was looked after for several years by Len Gibbs of Slades Garage). For 1923 Cook had one of the 1922 TT Vauxhalls "Rouge et Noir II" with which competed frequently for the next couple of years and which was subsequently supercharged, becoming the Vauxhall-Villiers and famously raced by Raymond Mays. This was followed by a twin-cam 16-valve Aston Martin and then Humphrey Cook joined the "Bentley Boys" notably finishing third in the 1929 Six-Hour Race at Brooklands with Leslie Callingham at the wheel of a 4 ½ litre Bentley. He was a member of the Aston Martin team that raced at Le Mans in 1931 but after about  eighteen hours a front wing fell off and they had to retire.
Cook's most notable motor-racing achievement has to be the setting up of the E.R.A. (English Racing Automobiles) team in 1933 with Raymond Mays and Peter Berthon. Cook not only financed the operation but was Managing Director and one of the racing drivers. These iconic voiturette racing cars won numerous prizes in their class through the nineteen-thirties when Grand Prix racing was dominated by the state-sponsored German teams. They continue to be raced today as an active memorial to Cook and his colleagues. In 1949 Earl Howe wrote, 'I often wonder if those who guide the destinies of the Motor Industry… have any conception whatever of how much they owe to Humphrey Cook and what he has done for National prestige.'
Cooks personal appearances as a driver included:
1934 R2A (H.C.'s 1100cc car) Brooklands (one 1st place plus standing start record attempts), Donington (5th place).
1935 R1A Brooklands (two 1st places, one 2nd place). R2A Nurburgring (5th 1500cc race), Dieppe (4th place).
1937 R12B Albi GP (3rd place)
In 1939 Mays and Berthon left ERA to become independent, and Cook announced he was closing down the works but was prepared to hand over the cars to the British Motor Racing Fund to be run as a national organisation. It soon emerged that the B.M.R.F. had insufficient funds and so Cook continued to run the team until everything was closed down by war. In 1945 he reestablished E.R.A. Ltd with a workshop in Dunstable, but finally disposed of his interest in the company at the end of 1947. Cook's link with Earl Howe extended beyond the race track as they were both deeply involved in the running of the British Racing Drivers Club of which Howe was President and Cook was Honorary Treasurer from 1931 to 1947. Cook then became Vice President of the Club.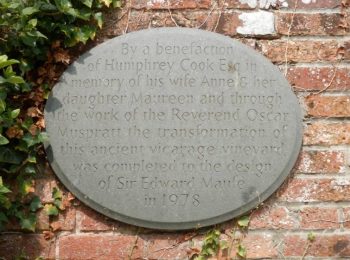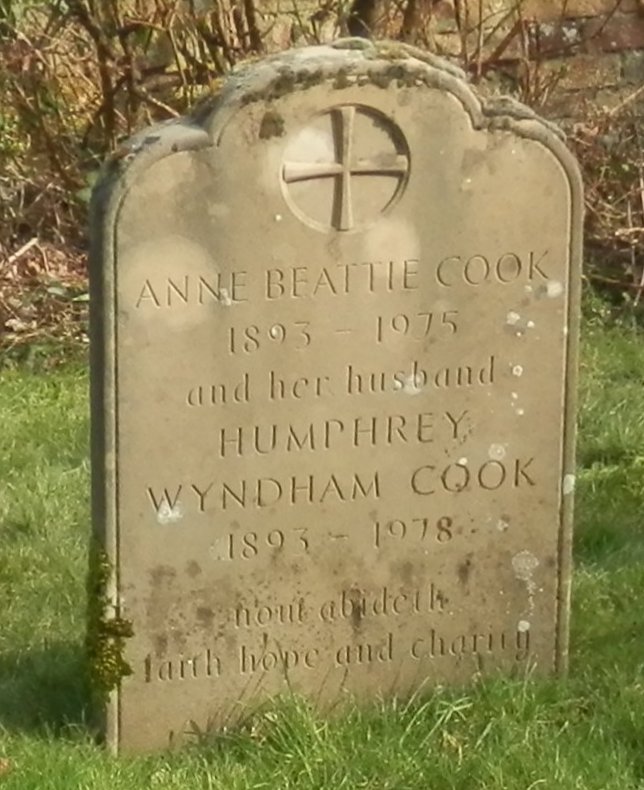 Humphrey Wyndham Cook died 3rd August 1978 aged 85, and is buried in the lower graveyard extension, on the left-hand-side about halfway down (plot no.30). The graveyard extension was completed through a donation he gave in memory of his wife Anne who is buried with him.
Sources:
David Weguelin, The History of English Racing Automobiles Ltd, White Mouse Editions, 1980.William Boddy, The History of Brooklands Motor Course,
© Oliver Heal, September 2021