Slades Garage on the corner of Beacon Hill occupies the site of the Penn village forge that existed as far back as the first half of the nineteenth century and probably earlier.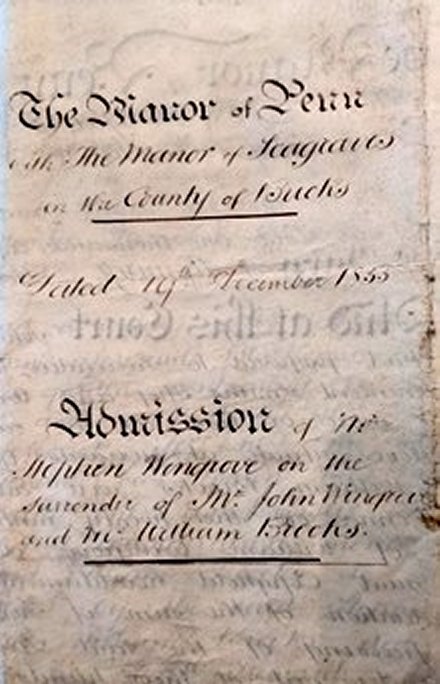 In 1853 John Wingrove and William Brocks handed over the forge to Stephen Wingrove as part of the Manor of Penn with the Manor of Seagraves. When Stephen died in 1879 his son Charles Wingrove was admitted to the tenancy. In 1891 Charles transferred the business to Walter Evans who, in 1899, was Enfranchised by the Manor of Penn to take on the freehold. Walter Evans (c.1864-1933) subsequently conveyed the property to George Slade in 1922 but continued to live across the road at Hampdens.
Although the forge still belonged to Walter Evans throughout the Great War, the 1911 census shows that George Slade, 1886-1966 (born in Coleshill), his wife Thurza 1886-1978 (née Wright, born in Winchmore Hill) and their daughter Blubelle were living there and running the business.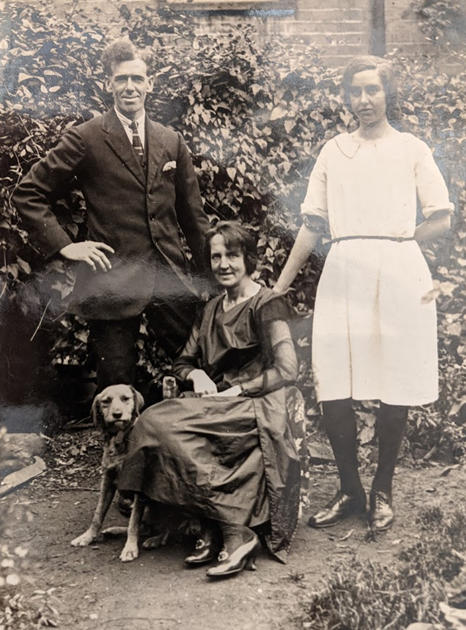 The Slades' daughter Ruby Bluebell was born in Penn in 1908 so presumably by the time of the census they had already been there for at least three years. In the census George's trade was given as Blacksmith, General & Shoeing. The change in trade from a forge providing metal-working services to local farmers, horse-owners and builders evolved gradually, to cater for bicyclists, motorcyclists and motorists so that by 1920 the directories described George Slade as Motor & Agricultural Engineer & Smith.

In 1922 he traded simply as "Slade's Garage" with "George Slade, Motor Engineer", offering "Complete Overhauls & Repairs". Despite this we learn from Herbert Druce that the forge continued to be a crucial element of the business through the nineteen-twenties producing metalwork for a local builder.
Herbert Druce believes that the new showroom was built late 1920's, early 1930's by Frank Perfect who had his builders yard almost opposite Slades garage.  A new forge was built at the back of the garage, with its only entrance off Beacon Hill, and carried on shoeing horses for a few more years.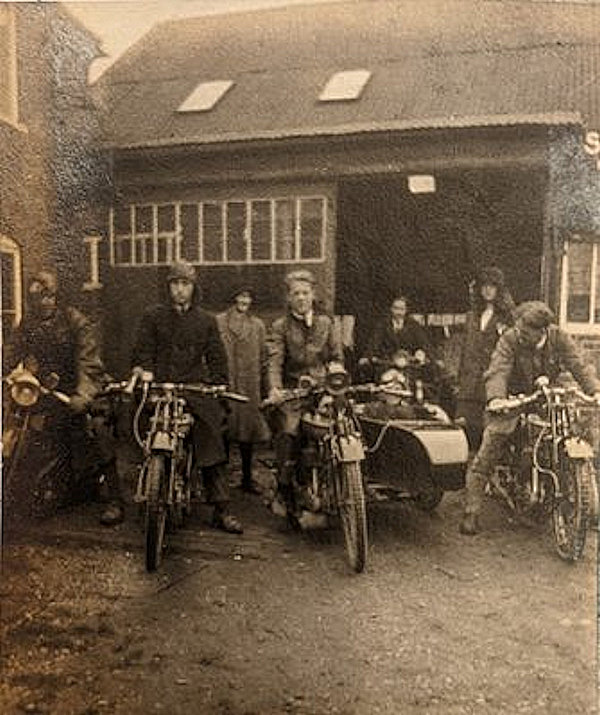 In his spare time George Slade was an enthusiastic motorcyclist taking part in long distance trials riding a motorcycle and sidecar combination. He sold Norton motorbikes but not exclusively as he dealt in other makes as well. He introduced his daughter to the sport and she accompanied him in the sidecar on a trial when she was 15 in 1923. Four years later the roles had been reversed and Bluebell was riding the 588cc Norton with her father in the sidecar.  Although it was said that this change had been made for health reasons and that George was no longer strong enough to handle the bike (he is known to have suffered 'heart trouble' for many years), we find him in 1930 taking part in the Lands End Trial. On that occasion when he rode from Slough to Lands End taking in various challenging hills 'en route', he was accompanied by his 15 year-old apprentice, Herbert Druce.
As well as running the garage and competing in trials, and being captain of the Penn & Tylers Green Football team which won the Wycombe League in 1911, George Slade had yet another passion to which he devoted much time. He was widely recognized as a skilled pigeon fancier, breeder and racer, successfully racing both North to Lerwick and south to Pau. He created the Swing Clear family of pigeons (eggs were even exported to Japan) and designed and made the Natural System of Nestboxes for his loft. During the Second World War he was a member of the National Pigeon Service (membership NPS/61) which provided pigeons for the Air Ministry to carry messages back often from deep within occupied territory
It was reported that he had just returned home from visiting his pigeon lofts when he died suddenly in 1996, aged 79. He is buried in the new churchyard on the left hand side in plot no.55. His wife Thurza died in 1978 and they share the grave.
His daughter Ruby Bluebell had married Len Gibbs in 1936 and together they had taken over the running of the garage. Bluebell died after a fall from a ladder when pruning the wisteria aged just 63 but Len carried on managing the firm until his own death in 1992. Slades Garage was then acquired in 1994 by Quentin Chases who has preserved its external appearance and maintained its activity in the motor trade. The garage now sells an exotic assortment of super-cars.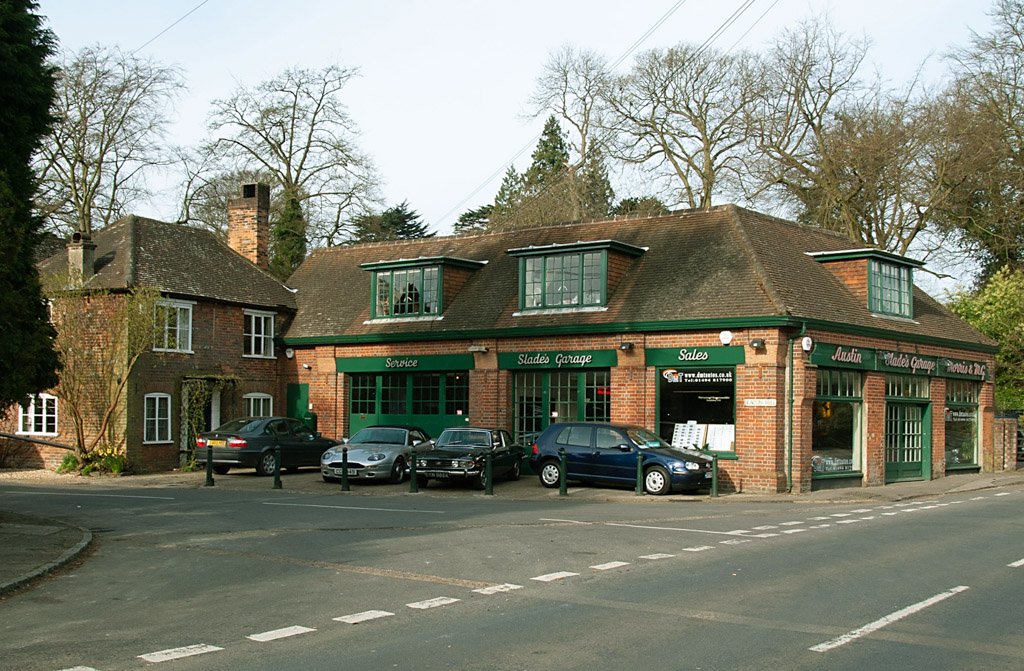 Thanks for much help in the preparation of this article goes to : Quentin Chases, Slades Garage Ltd, Peter Strutt, Miles Green, Ron Saunders, Herbert Druce, Norton Owners Club, Eddie Morton, Christopher White, Herbert Druce.
© Oliver Heal, September 2021