Paddy Hopkirk MBE (1933 – 2022)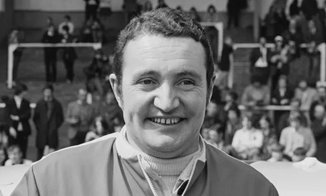 Patrick Barron Hopkirk, known to all as Paddy, is famous as the man who won the Monte Carlo Rally with a Mini, but this was just one highlight of a long and very varied motor racing career.
Born in Northern Ireland he dropped out of an Engineering degree at Trinity College Dublin to take a job as a VW car salesman which enabled him to spend as much time as possible taking part in rallies, driving tests, and hillclimbs. Having started driving a VW Beetle in 1952/53, he won his first circuit race at Phoenix Park in 1955 at the wheel of a Triumph TR2.
With the same car he also won the Irish 900 Mile Rally and this brought him to the attention of competition managers who started to offer him drives in the work's teams. This started with Standard Triumph until, after several years, he was invited to join the Rootes Group competition department in 1960 for whom he took part in major international rallies with Sunbeam Rapiers and shared a Sunbeam Alpine with Peter Jopp in the 1961 Le Mans 24 Hour Race and Sebring 12 Hours.
1964 was the year of his famous Monte Carl Rally win. Starting from Minsk in the Soviet Union with co-driver Henry Lyddon, they battled through ice, snow, fog and freezing conditions to emerge triumphant and bring the first win of many for the Mini in a major international rally.
Over the next few years Paddy's victories at the wheel of Mini-Cooper S's included the 1966 Austrian Alpine, the 1967 Circuit of Ireland, the 1967 Acropolis and the 1967 Alpine Rallies. He continued to race Minis in the British Saloon Car championship and took a class win in the 1964 Spa 24-Hour Race.
He also became known as a successful transcontinental rally driver taking part in the 1968 London to Sydney Marathon with Alec and Tony Nash. In an underpowered BMC/Austin/Morris 1800 'Land Crab', after driving across Europe, through Turkey, Afghanistan, India and from one side of Australia to the other they took second place overall.
In 1970 he finished fourth in the London to Mexico World Cup event with a Triumph 2.5i and in 1977 he came third in the second London-to-Sydney Marathon with a Citroen CX2400.
Although it was his rally successes which made Paddy a household name, he also competed in major sports car races such as the Targa Florio, Sebring 12 Hours and the Le Mans 24 Hour Race with different MGs.
After his retirement from active competition Paddy established an association with BMW as an Ambassador for the second generation MINI brand, and oversaw the introduction of a special edition Paddy Hopkirk Cooper S. He also gave his time freely to several charities including Wheelpower, SKIDZ (of High Wycombe) and the Integrated Education Fund for Northern Ireland. He was appointed MBE in 2016. Continuing the work started by Earl Howe and Humphrey Cook, from 2017 to 2019 he was President of the British Racing Driver's Club.
Paddy Hopkirk lived for many years at Parsonage Farm, Penn.
He died 21st August 2022, and is buried at the end of the left-hand path in the graveyard, plot number 57A.
Oliver Heal, August 2022.  Source: BRDC Obituary.