Leonard Ernest Gibbs was born in Staines, Middx, on 19 July 1904 to parents Ernest and Phoebe Gibbs. After his marriage to Bluebelle Slade he ran Slades Garage in Penn until his death.
Len rode in motor cycle trials during the 1930s for both Raleigh and Enfield teams (?) and met fellow competitor Bluebell Slade. They were married in the summer of 1936 and Len took on the running of Slades Garage in Penn in 1937. He was quickly drawn into helping Anthony Heal with his cars, particularly the huge 1910, ex-Brooklands, chain-driven Fiat.
During the war he kept the garage open whilst serving as a Special Constable. In 1941 he and Bluebelle were witnesses at the marriage of Anthony & Theodora Heal at Amersham Registry Office . The Fiat was used as a wedding carriage but the engine had to be left running during the ceremony  so rather distracted the witnesses!
July 1945 one of the very first post-war motor sport events was a sprint at Cockfosters. Anthony Heal and Len Gibbs participated with the 1919 Indianapolis Ballot once owned by Humphrey Cook. Earl Howe opened the course with his Bugatti Type 57S.
Gibbs started competing on four wheels in 1946 with the Fiat which he drove in 1947 and 1948 at Prescott Hill Climb as well as the Luton Hoo Speed Trial. From 1947  he also raced his own 1929/31 1089cc Riley 9 special.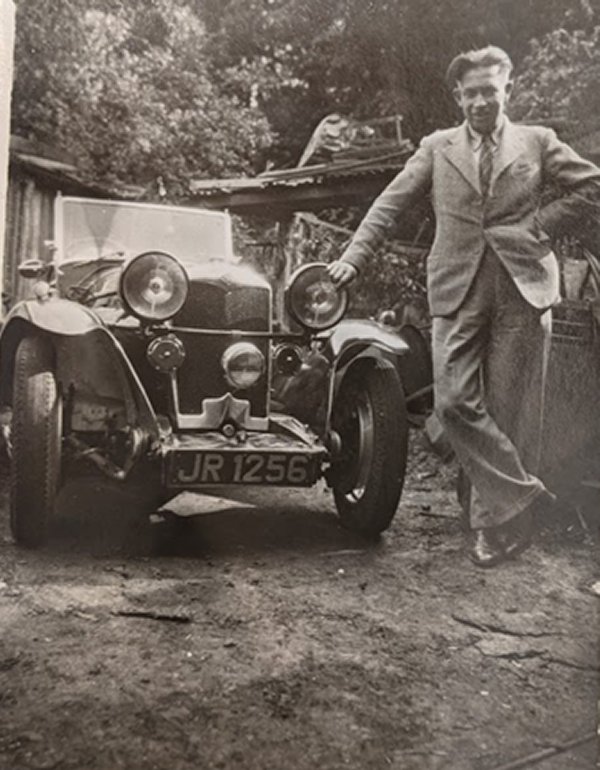 This potent machine underwent constant development and may well have been several different cars. It had a shortened and strengthened chassis fitted with an ex-Bob Gerrard high compression racing engine fed by four Amal carburetters. Len also experimented with a very large supercharger.  He was placed in club events at Goodwood, Silverstone and Castle Combe on numerous occasions. The engine blew up comprehensively in 1951 but reappeared the following year with a new engine. A subsequent owner recorded that it had a special racing crankshaft and crankcase as well as a twin-plug cylinder head.
In 1950 he bought a pair of the lightweight, aerodynamic H.R.G.s that had been raced at Le Mans in 1949 – he soon sold one on to Michael Keen which then passed to David Blakely. Over the next four years both he and Bluebell raced the remaining H.R.G. (Reg. No. HXR 530) regularly.
In 1952 the HRG was fitted with four Amal carburettors and Len entered for the Goodwood 9-Hour Race with Anthony Heal as his co-driver. They finished in 13th place in a race that included much faster machinery driven by professionals such as Peter Collins and Stirling Moss.
Len further developed the H.R.G. converting it to twin overhead camshafts and fitting an all-enveloping body for the 1953 season.
He had retained his Riley and continued to race that as well until the end of 1954 when it was replaced by a Lotus Mk VI for 1955 which in turn gave way to a Lotus Eleven in 1956. Over four years he took part in numerous events, including the 1957 British Empire Trophy Race, with the Lotus 11.
In 1960 he was racing a single-seater for the first time – a mid-engined Lotus 18.
There was then a return to a two-seater, front engine racing car for 1962 when a new Lola Mark 1 was acquired. Len came first with this car at the MCC Meeting at Brands Hatch on 1st July. Thereafter it was his wife, Bluebelle who was the main competitor with the Lola.
Len's next single-seater was a Lotus 31 made for the new 1-litre Formula 3 series introduced in 1964 and he raced that through 1966 and 1967. For 1968 he bought a Ford-powered Brabham BT21 Formula 3 car.
In April he had a scary moment when competitors well ahead of him on the grid at Silverstone collided and he ran into the back of two cars  and the Brabham was launched into the air. Undaunted, he was racing again by June and in September won the Nottingham S.C.C. Formula Libre Race. In 1969 he took part in the AMOC Martini International Trophy Formula 3 Race finishing 18th  on a wet circuit. He entered again the following year but did not finish. This seems to have been his final race when he was 65 years old and it is notable that amongst the others competing that day were some up-and-coming stars – Carlos Pace, Wilson Fittipaldi and James Hunt.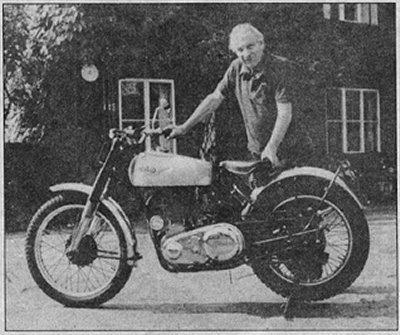 After the death of Bluebelle in 1972 Len did not race any more but continued to run Slades Garage in Penn until his own death from pneumonia in 1992 at the age of 87. He is buried with Bluebelle in the lower churchyard, the penultimate grave on the right side of the left hand path, in plot no. 75. The inscription reads: "A sporting caring and loved resident of Penn Village for many years."
© Oliver Heal, September 2021