Bluebelle, as she was mostly known, was born in Penn on 7th November 1908 and given the names Ruby Bluebell (without a final 'e') Slade by her parents George and Thurza Slade. At that time her father George ran  the Penn village forge for its owner Walter Evans, only taking it over after the Great War when it became Slade's Garage.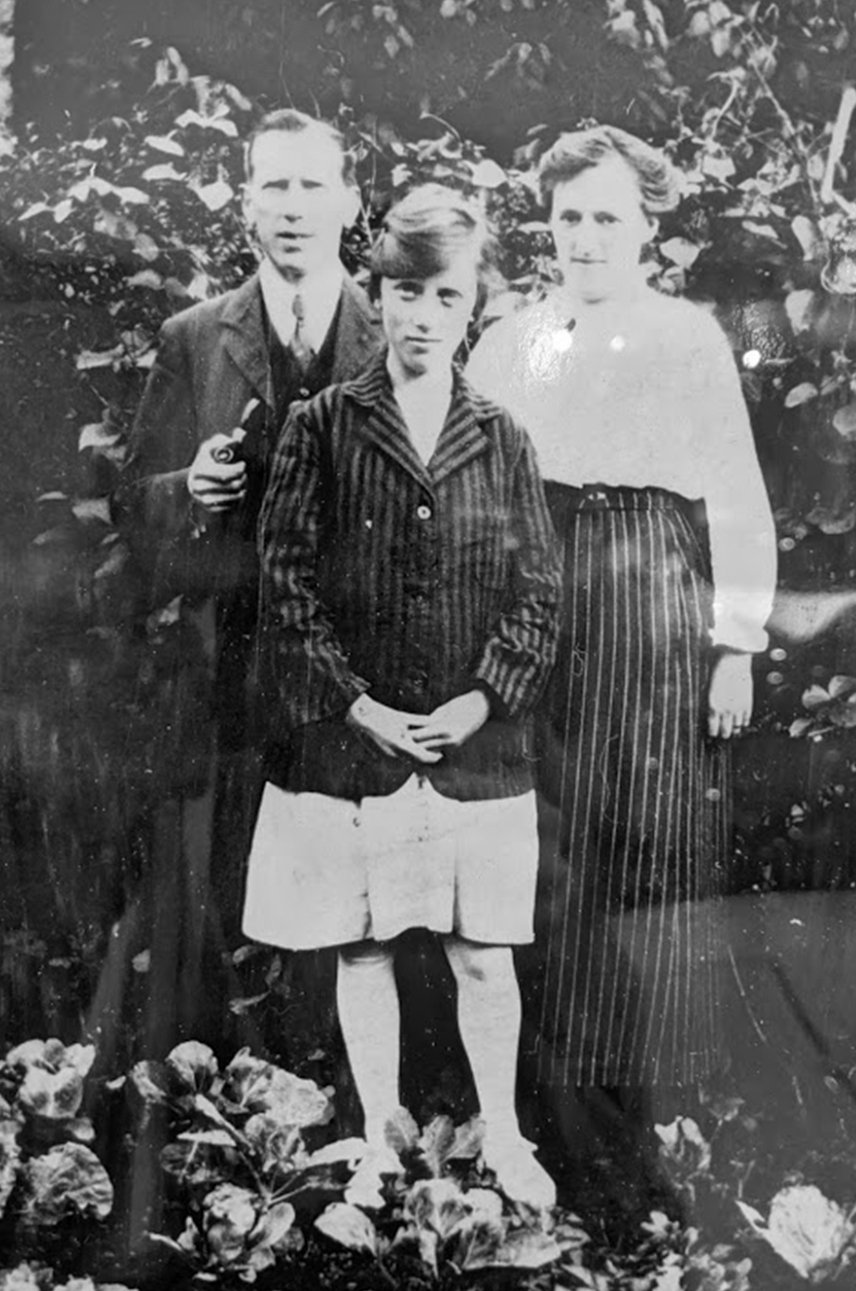 George Slade was an enthusiastic motorcyclist who competed in long distance trials. He introduced Bluebelle to bikes at an early age and she had learned to ride a motorbike by the time she was twelve years old. When she was fifteen she started accompanying her father on trials in the sidecar. In 1927 she was entered in her first trial at the controls of the 588cc Norton sidecar outfit with her father (apparently with a weak heart) now in the sidecar. Her ability rapidly shone through and she achieved "many successes" that year so that when she was eighteen she was part of the Norton Works team.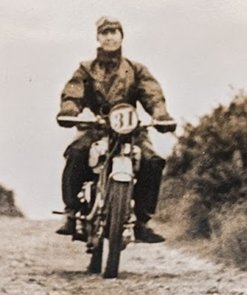 She won the 1928 Woodgreen Ladies Open Reliability Trial on a Norton 44 loaned by the works and took part in the renowned Colmore Trial with her sidecar combination. In 1930 she rode a 348cc Norton CJ and in 1933 was on a special competition version of the Norton 50.
Bluebell on her trials Norton motorbike
Another regular competitor at these trials was a young man called Len Gibbs. Len and Bluebelle were married in the summer of 1936 and the following year she and Len effectively took over the running of Slade's Garage. Bluebelle continued to compete and in 1939 Norton supplied a bike fitted  with a very special Elektron crankcase. Once events started again after the War, Bluebelle carried on entering 350cc and 500cc Trials Nortons and even taking to circuit racing at Silverstone in 1952.
Racing on four wheels was perhaps more suitable for middle-age and from 1951 onwards she was regularly to be found at the wheel of the lightweight, ex-Le Mans H.R.G. that Len had bought and was developing. Over five years she raced it about half a dozen times a year in club events at Silverstone and Goodwood and was placed among the top three finishers on sixteen occasions. Not only was the power output of the engine improved over time but the car was also given a new all-enveloping body.
The H.R.G. was succeeded by a Cooper Climax but Bluebelle was not happy with its rear-engine layout and after a brief unsuccessful interlude with a Lotus 11, it was replaced by a Lola Mk1 in 1962.
This is the car with which Bluebelle became most closely identified as she raced it for nearly ten years. The Lola was front engined and had a very light tubular frame clothed with a low, white-painted, aerodynamic two-seater body.  It was road registered (1 UPP) and was driven to and from the race circuits and on occasions she even took her aged mother along as a passenger. She was still regularly winning races with this car until 1969 and in 1970 took a second place at Silverstone.
Even though Bluebelle was now in her sixties and had been an active motor sport competitor for over forty years she had no intention of slowing down. During 1971 she bought the much newer, ex-Martin Raymond, Daren Mk2 sports racing car which held 1000cc lap records at a number of circuits. She intended to race this car in 1972 but tragedy intervened. On Easter Saturday she was trimming the wisteria on the front of the cottage when the ladder slipped and she died from brain damage as a result of the fall. She was 63 years old.
She is buried in the new churchyard in plot no. 75, the penultimate grave on the right of the left-hand path. The name engraved on the headstone is Bluebelle Gibbs even though her given names were Ruby Bluebell. The inscription reads: 'Loved and admired for her achievements, her humility and her kindness'.
Thanks for much help in the preparation of this article goes to : Quentin Chases, Slades Garage Ltd, Miles Green, Ron Saunders, Herbert Druce, Norton Owners Club, Eddie Morton, Christopher White.

© Oliver Heal, September 2021