Holy Trinity, Penn, Old Churchyard, Plot F.19
Ten years ago, I was contacted by Dr Jennian Geddes who was researching the Women's Hospital Corps (WHC), a group of female doctors and nurses which had been set up in 1914 to treat military casualties.   A flat granite memorial stone in the SW corner of Penn churchyard records the names of the two very remarkable women doctors: Flora Murray (8th May 1869 – 28th July 1923) and Louisa Garrett-Anderson (25th June 1873 – 15th November 1943), who in their 40s had founded the WHC and who lived at Paul End (now Gatemoor Grange) off Pauls Hill, close to the church.
Before WW1, it was still rare for a woman doctor to see male patients and women were excluded from training for general medicine and surgery.  Both women had been very active in the suffragette movement. Louisa Garrett Anderson, whose mother, Elizabeth, was the first ever British woman doctor, as well as becoming established in her profession, was politically active, taking a keen interest in suffrage activities.  She was a member of: the London Society for Women's Suffrage; the London Graduates' Union for Women's Suffrage (where she chaired the inaugural meeting); the Women's Social and Political Union; the United Suffragists (Vice-President); and the National Political League.  On 4 March 1912 she smashed a window in Rutland Gate in protest at a speech made by an anti-suffragist Cabinet minister. She was arrested and sent to Holloway Prison for 6 weeks with hard labour.  Flora Murray had nursed many of the suffragettes after forcible feeding in prison.
It is intriguing to note a connection between the suffragettes and Florence Nightingale, since it was Louisa Garrett Anderson who, in 1910, signed Florence Nightingale's death certificate when she died at her home in London, aged 90.
Louisa G-A was already in Penn by 1911 when she is recorded as living in Stone Lodge, probably now Stone Cottage, the first cottage at the top of Pauls Hill.   By 1912, she had bought the land for Paul End which was built in 1913.   This was the very year in which unknown suffragettes tried to set light to Penn Church, which must surely have been a considerable embarrassment to Louisa!
Princess Sophia Duleep Singh, daughter of Maharaja Duleep Singh, forcibly exiled in England from his kingdom of Punjab, provides another unexpected local connection with a leading suffragette as both she and Louisa were members of a suffragette deputation to the Prime Minister in 1910.  Sophia and her sister Catherine came to live in Hammersley Lane during WW2 – possibly as a result of having known Louisa?
Another notable local suffragette was Mary Gawthorpe, who was living in Penn (address not known, but perhaps with Louisa G-A?) in October-December 1912, when she called for a National Hunger Strike from the Penn address and was later interviewed by the Daily Mail on 'Penn Common'.
When the First World War broke out, Flora Murray and Louisa Garret Anderson founded the Women's Hospital Corps (WHC), and recruited women to staff it.  Believing that the British War Office would reject their offer of help, and knowing that the French were in need of medical assistance, they offered their assistance to the French Red Cross. The French accepted their offer and provided them the space of a newly built Claridges Hotel in Paris as their hospital.  They ran a very successful hospital staffed and run entirely by women.  Before returning to London in 1915 they opened another hospital at The Chateau Mauricien near Boulogne.
Then, in January 1915, they were offered the chance to run a hospital in London where most of the casualties were then going to.  They were given large old workhouse premises in Endell Street in Covent Garden. This they transformed into a 573-bed military hospital which opened in May 1915.
Flora Murray was the Doctor-in-charge and was the first woman to be recognized as a Lt Colonel equivalent by the British Army.  She was an anesthetist and Louisa Garrett Anderson, a Major equivalent, was the Chief Surgeon.  The hospital had a staff of 180 women who referred to them both as 'the C.O.s'.   They operated together.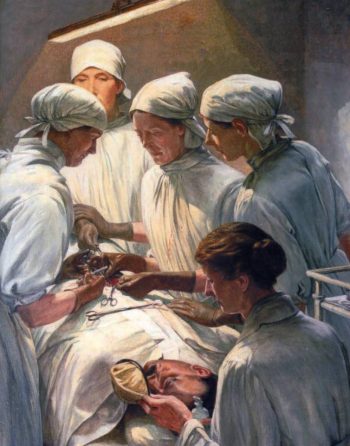 The illustration shows Louisa Garrett Anderson, the surgeon in the middle of the group, with Flora Murray as the anaesthetist.  The large oil by Francis Dodd was commissioned in 1920 by the Imperial War Museum to record the work of the hospital. It was not unusual for 20 to 30 men to go to theatre in a day.   Weekly lectures were given to the young staff about women's rights and their duties as citizens and flags were flown in 1918 when a law was passed giving suffrage to women over 30 and women over 21 who were householders.  Younger women had to wait until 1928.  Both women were awarded the CBE for their war work,
Endell Street hospital was amazingly successful and one of the reasons for this was their attention to the psychological needs of the soldiers.  Great emphasis was placed on creating a calming and home-like environment with fresh flowers in every room, brightly coloured blankets, standard lamps for reading, and 'our gentle merry young orderly girls who feed them with cigarettes, write to their mothers and read to them.'  When it was finally closed, in December 1919, they had treated 26,000 patients in the four and a half years of its existence, almost all of them male.
Paul End was owned jointly by Louisa and Flora and was much used and appreciated as a retreat for the hospital staff to get away from the horrors of military surgery and wartime London.   After the war, from 1921, they lived there full-time.  Flora died in 1923 after a series of operations in the Elizabeth Garrett Anderson Hospital in London and was buried in the churchyard at Penn.  Louisa stayed on in Penn and played an active part in local affairs.  She, became a magistrate and was the second woman to be elected to Penn Parish Council on which she served from 1932 to 1940, taking a particular interest in the War memorial.  She is recorded as opening a church bazaar in Penn Street.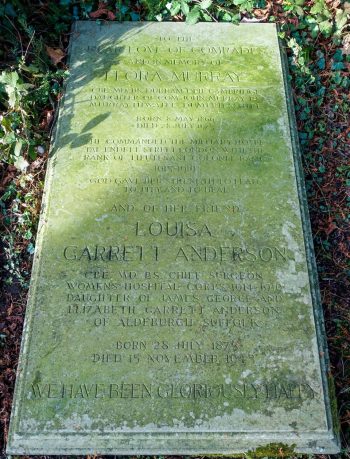 On the outbreak of WW2, Louisa let the house and went to work as a member of the surgical staff in the Elizabeth Garrett Anderson hospital in London.  She became seriously ill in 1943 and was at first treated in the hospital named  after her mother, before being taken to a nursing home in Brighton, where she died on 15 Nov 1943.  She was cremated at Brighton and her ashes scattered on the South Downs, but her family arranged for an inscription commemorating her friendship and work with Flora Murray to be placed on the latter's tombstone in the churchyard at Holy Trinity, Penn.
Their shared memorial stone is headed, 'To the dear love of comrades', presumably referring to their suffragette days.  It records their roles at the Endell Street Hospital acknowledging that 'God gave her strength to lead, to pity and to heal', and concludes movingly and triumphantly, in capitals, 'WE HAVE BEEN GLORIOUSLY HAPPY'.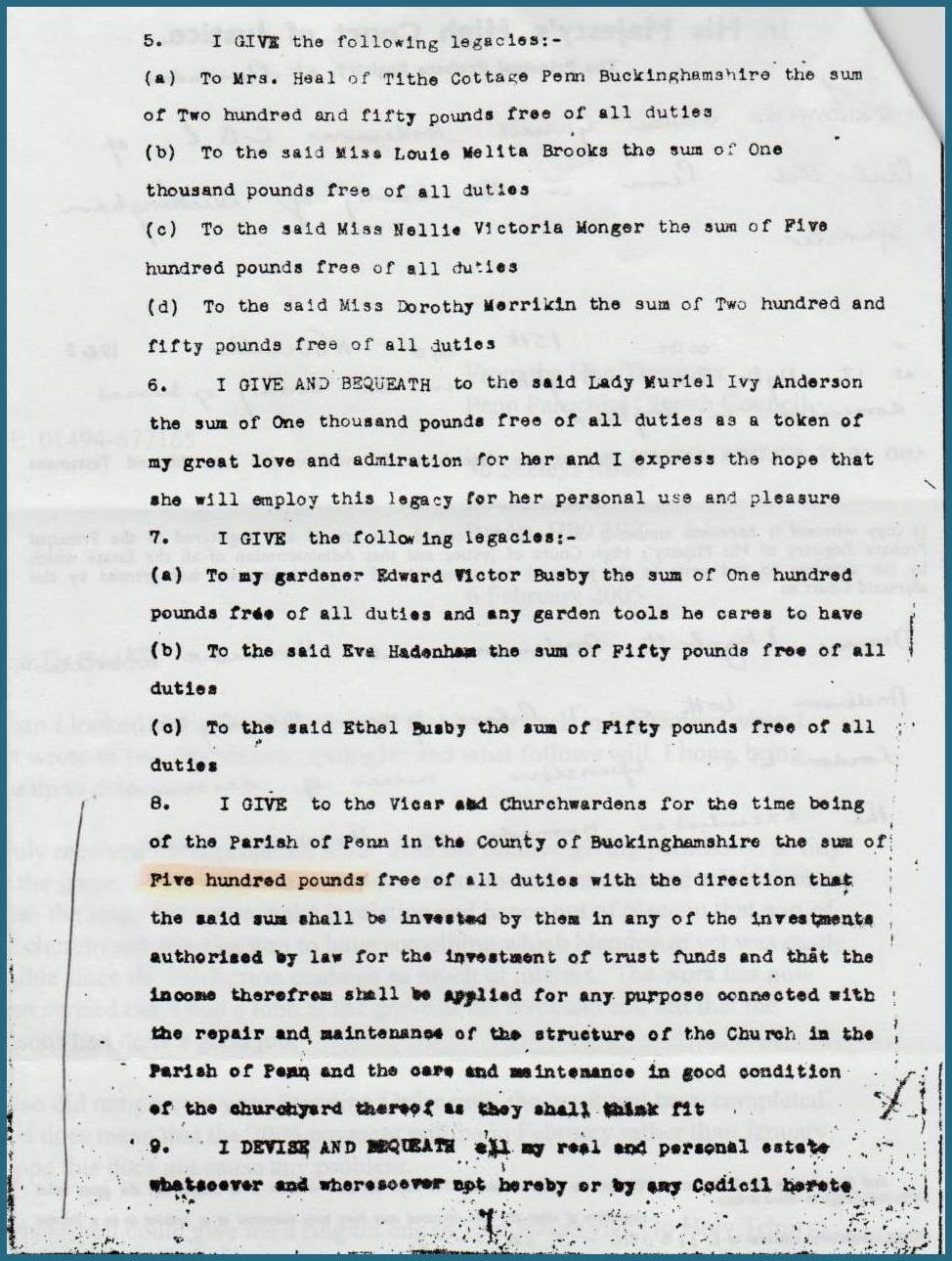 Her will includes a generous £500 to Penn Church (about £20,000 today according to the National Archive calculator), to be invested for the repair and maintenance of Penn Church.
[The initial article (see VV No. 137, Apr 2010)  was mostly based initially on an article by Dr Jennian Geddes, 'The Woman's Hospital Corps' in The Camden History Review, Vol 32 (2008), pp.13-18,  since supplemented with useful researches by Ron Saunders and Peter Strutt.
Miles Green, 1 June 2020