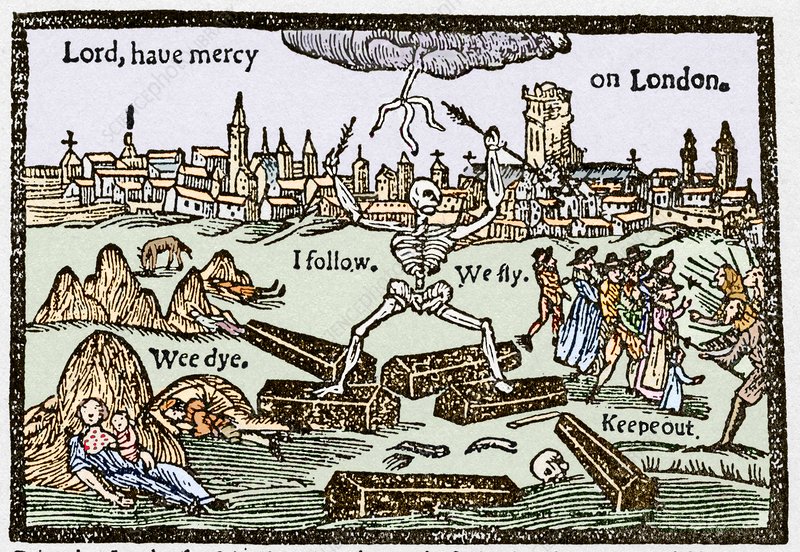 Whilst few villages escaped unscathed from the Black Death, which first appeared in 1348, some were affected much worse than others. In Kimble, for instance, in 1349, all the tenants were dead and the land was uncultivated. In the same year, 77 of Buckinghamshire's clergy died. There is no contemporary record for Penn, but the Poll Tax of 1377 showed there were only 81 adults in the parish. It is likely that about half the population died in the four successive epidemics.
The 1332 tax return for Penn shows there were three tilers in the parish and that their combined wealth almost equalled that of the lord of the manor. Tile-making must have been all the more important to Penn's inhabitants because even before the Black Death agricultural conditions were dire. A rapidly increasing population was faced with a climate shift bringing cool, wet weather that destroyed harvests and left populations and their animals starving and vulnerable to infection. Loss of cattle to disease and with them the only source of fertiliser for the fields, led to a cycle of reducing crop yields and severe food shortages.
We have a glimpse of these problems from a tax of 1340, levied to pay for Edward III's wars with France. Penn was required to pay a total of 20 marks (1 mark = 13s 4d), but the inhabitants claimed successfully on oath that almost one third of the land of the parish, 'which used to be ploughed and sown, lies fresh and uncultivated because many are so poor and impotent that they cannot cultivate their lands'. Their plea was successful and the tax was reduced to 13 marks. The agricultural depression was still a feature of Segrave Manor, one of the two manors in Penn parish, in 1372, since their accounts reported 'for corn much of the land lay uncultivated'.
The tower and south aisle of Penn Church, which are dated architecturally to between 1325 and 1350, must have been built before this economic collapse since the money would have to have been raised from parishioners, probably heavily subsidised by the prosperous tilers.
The more detailed records of the tilers all come after 1348 and so relate to a parish with about 40 working men. Three to five tileries with 15 kilns were needed to meet just the royal orders of 1357. If we also consider the many ancillary tasks involved, we must conclude that the tile industry entirely dominated the parish and it is not at all surprising that the tilers gave their name to their part of the parish as Tyler End Green.
So, climate change, pestilence, crop failure and shortage of workers were the dominant features of life in the 14th century.
– 'Plus ça change, plus c'est la même chose'!
Miles Green, December 2022