The Royal Commission on Historic  Monuments suggested that the south aisle was added in about the middle of the 14th century by breaking through the south wall of the nave with three pointed arches (probably made of clunch). The easternmost arch was widened in 1733. The middle (lower) external window of the south aisle is of the 14th century but the windows on each side were raised to semi-dormer level by Sir Edwin Maufe in the Revd. Oscar Muspratt' s time.
The South aisle was probably started soon after Chalcombe Priory's successful appeal to the Pope, in 1344, which put an end to all argument about ownership, and certainly before the successive epidemics of Black Death, between 1348 and 1370, drastically reduced both population and prosperity. Henry de Erdyngton, who was instituted as vicar of Penn in 1349, was appointed to 'a newly ordained vicarage' and I suggested in an earlier article (part 4) , that the dedication to the Holy Trinity may date from this time.
The South Chapel,- The R.C.H.M. suggest that it may possibly have also been built in the mid 14th century, but if so, it was not at the same time as the south aisle since it is on a noticeably different alignment. The chapel was pulled down after a serious fire in 1736, leaving only the first four feet of the medieval walls a base for the rebuilding.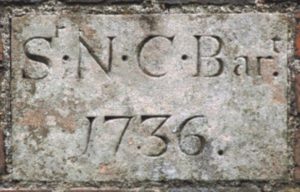 The Chancel – was rebuilt in the same way after the fire of 1736, (the date is over the chancel door), and the medieval, pointed chancel arch was replaced by the present, much larger, roundheaded arch. The exterior flintwork of the first four feet of the wals, which are 2 feet 2 inches thick, does not appear to be similar to that of the nave, vvhich suggests that they were not built at the same time. Dr.Clive Rouse saw the steam cleaned interior walls in 1951 and concluded that the chancel had been extended in the first half of the 14th century. This view is supported by the flooring of the chancel which was in Penn tiles of exactly that period until 1918 when the Earl Howe of the time replaced them with the present black marble tiles.
© Miles Green, February 1998.