The fine timbered roof, which we admire today was first raised C.1400, supported by 12 stone corbels. Whether they also supported the earlier, lower roof we do not know.
In 1952, when the Rev. Oscar Muspratt was having the Church renovated, there was scarcely any trace of visible colour to any of the corbels, but there was sufficient outline of the original carving to identify seven of them. The remaining five were painted with arms thought appropriate to the history of the parish.
Three of the five 'guesses' are the corbels between the north porch and the chancel: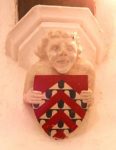 1)The Turville arms, nearest to the porch (on a demi-man with a high collar and spiky hair holding a shield) are those of the family who were the overlords of the Pennes (see Part 16) and who held the patronage of the church in its early years.
2) The Penn arms (on a demi-man in a cap and knitted pullover, holding a shield). The arms first appear in written records in about 1308 when the parliamentary Roll of Arms assigns 'Argent, on a fess sable, 3 plates to Sire Johan de la Penne'. He was twice Knight of the Shire for Buckinghamshire but his forbears were also of the knightly class, and the arms are likely to date from the early years of heraldry at least a century earlier.
(The arms on the corbel were originally mistaken since the three plates or roundels should be silver rather than gold  – since corrected)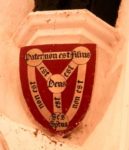 3) A symbol of the Holy Trinity. I suggested (Part 4) that the original dedication of the church may not have been to the Holy Trinity.
© Miles Green, August 1999.