The next five corbels discussed below were all part of the original design for the new roof in c.1400.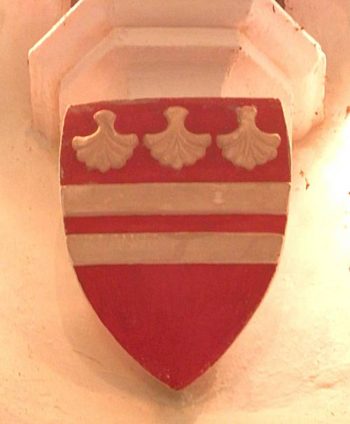 The second corbel from the east end of the south wall, almost above the pulpit, shows the arms of the Bishop of Bayeux and there is a similar one on the north side of the nave. The Bishop was William the Conqueror's half brother and held the manor at the time of the Domesday Book, although he lost his estates only two years later when he rebelled against his nephew, William Rufus. The builder of 1400 must have been aware of the Domesday entry for Taplow, and that it included Penn.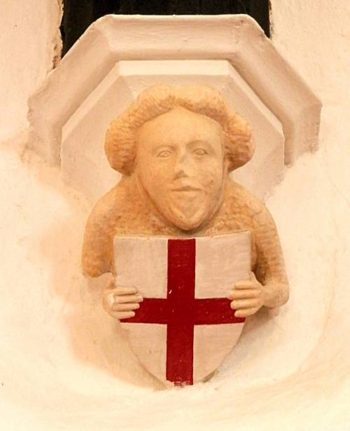 St. George is represented on the next corbel, an unsurprising choice at a time of war with France.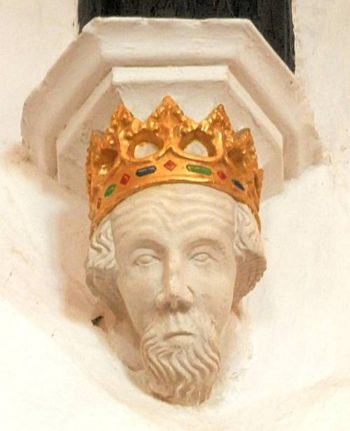 Next is very probably Edward III (1327-77). The corbel depicts a bearded and crowned king's head and shoulders, a fine piece of portrait sculpture, not just a random conventional kingly type. Dr. Clive Rouse, a nationally acknowledged expert on such matters, suggested Edward Ill. He had been a generous benefactor of Penn tilers and was a famous warrior king.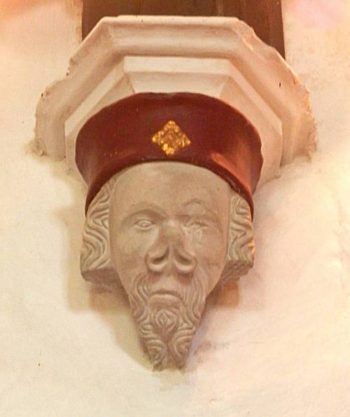 The immediately adjacent corbel shows a grotesque man's head, bearded and moustached, with a huge nose, wearing a red painted, stiffened  'cap of estate', a sign of rank only one degree below a coronet which a king might wear on occasion. Dr Rouse suggested that this might well be a caricature of Richard II after his deposition, in 1399, by Henry of Lancaster who was Penn's overlord at the time. Caricatures of this kind were quite common in churches.
© Miles Green, December 1999.