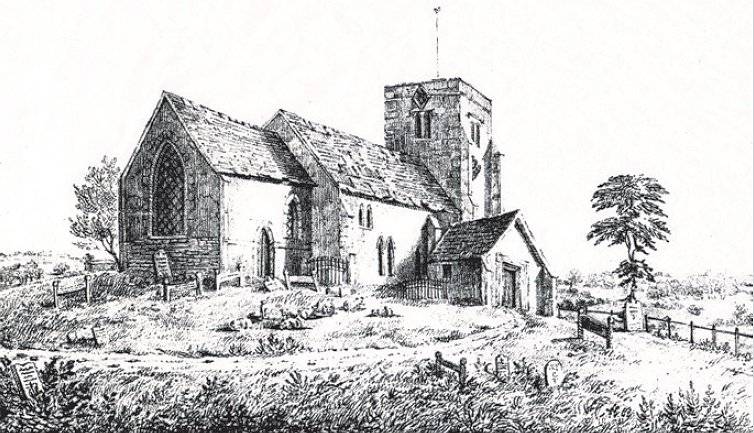 We have, to my great delight and surprise, a drawing of the church, which pre-dates the major alterations by Sir Nathaniel Curzon, in the 1730s, that gave us the shape of the church we know today. Various clues suggest that the original drawing was made in the 17th C and is an accurate record of the church's appearance at the time.
There is no written record or architectural evidence of any major work on the church in the 16th and 17th C, indeed there is specific evidence of the serious neglect which was entirely typical of many Anglican churches in the 150 years of religious turmoil following the Reformation.
We can therefore reasonably assume that this 17th C drawing also represents the shape of the Catholic church, in the late Middle Ages before the Reformation.
the chancel, the upper part largely rebuilt in the 1730s, about 8 feet shorter. The walls were covered with render to protect the soft clunch from weathering, and this was not removed until the 1950s. The East window was narrower than today, with diagonal leading and, almost certainly, clear glass had replaced earlier medieval stained glass. The ridge of the north porch was a foot lower than now, the buttresses much thinner and the door frame had different shaped moulding.
The drawing shows a tiled roof in what seems to be bad condition. We know, from a written record that the roof was tiled in 1552 at a time when most ordinary buildings were still thatched. Many churches in the later Middle Ages had flatter, lead roofs and earlier still they may have been thatched , but probably not in Penn where the manufacture of roof tiles was big business in the 14th C and where roof tiles were incorporated in the building of the nave walls and buttresses.
© Miles Green, October 2001.