John was the only recorded son of William & Martha Penne, who we noted in the last article were both Catholic sympathisers although William later became High Sheriff of Buckinghamshire. The parish register does not include John's christening and it may have been in Bourton where his mother was from. He had two sisters Sybil (Jeffries) and Kate (Winchcombe), who were christened in 1602 and 1608 respectively.
John married Sarah, daughter of Sir Henry Drurey of Hedgerley, and they had ten children, five boys and five girls. The fine brass in Penn Church shows them all in a neat gradation of size, although actually at least three died as small babies. There is also a brass to Sarah's mother, Lady Susan Drurey, who died in 1640.
Penn Family Tree, 16th to 18th century, (PDF opens in new window)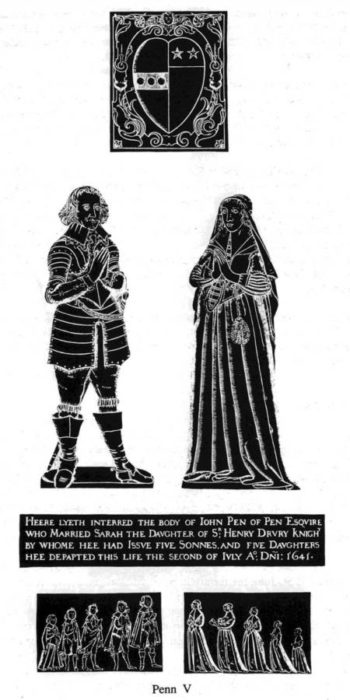 John died in 1641 only two years after his 72 year-old father and just before the Civil War got properly underway. His eldest son and heir, William, was only 12 and so until he came of age, at 21, he was a ward of the Crown and all profits from his estate were payable to the King.
A formal Visitation or inspection of Penn Church took place in 1637, just two years before John inherited its patronage from his father. This was part of a national enquiry instigated by Archbishop Laud and it reveals a church in a dismal state: some windows without glass and partly boarded up, a leaking roof, seats in disrepair, the stone floor breaking up, the tower and buttress in a bad way. There were three huge family pews in the chancel (an important mark of a family's social status), each 7 1/2 feet high and roofed, obscuring any view of the altar, with two more in the nave extending into the centre aisle and one at the front of the south aisle. If that sounds bad, it was worse at Chalfont St Peter where one side of the church was 'so broken that a hog may creep through'.
© Miles Green, Penn Parish Newsletter, No.13, February 2010.
Photographs: courtesy Eddie Morton ARPS.
Penn Pen Penne Penna brasses