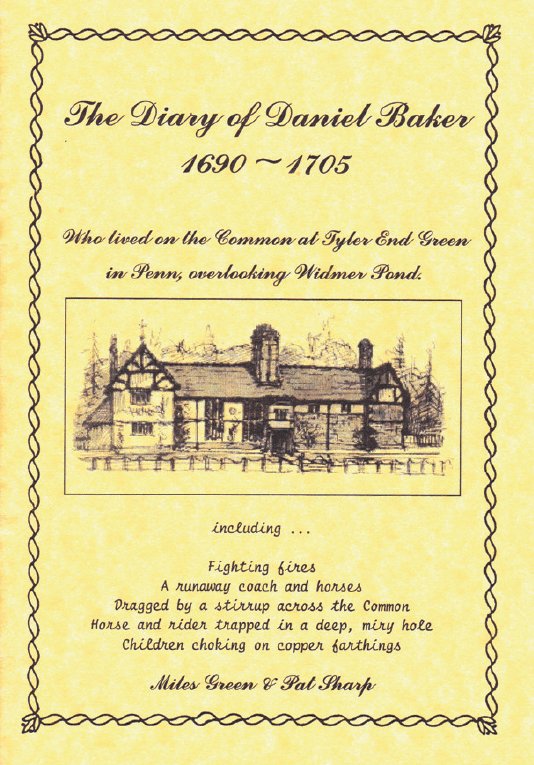 Daniel Baker's leather-covered diary brings him and his family vividly to life. He was a deeply religious man with an unshakeable and enviable faith in God and he kept a diary to record the times when he had no doubt that he had narrowly escaped disaster but for the Grace of God – or in his own words, "for fear I should forget these Remarkable Favours (which I am apt to do) I thought fitt to put them down".
The diary records many such deliverances, including when two of his children nearly fell out of an attic window; when his coachman was drunk and fell off the coach, the horses bolted and Daniel Baker had to leap out leaving his wife inside; when his kitchen chimney caught fire. They are too long to repeat here, but the following brief accounts give a flavour of the diary:
Horse & rider stuck in the mire
– "On the 8th of June 1691 I & my Mare fell in a deep Slough, no one being with me & for some time stuck so deep in the stiff mire that neither I nor my Mare could gett out; at last it pleased God to bring mee out without any help from man for which great and distinguishing Mercy I desire to Bless His Holy Name".
Son choked by a copper farthing
– "My Dear Daniel that is living had liked to have been choked with a copper farthing (which stuck in his throat) on October 3d 1690.
The Lord be praised for this signal and extraordinary Mercy in delivering my child from that imminent danger he was then in; & for suffering him to bring it up of his Accord which was reckoned next to Miracle by all them that heard of it."
Dragged by his stirrup across the Common
– "In March 1705. I had a very fiery bay guelding; & as I was all alone rideing him in the Common. I light just to go into a field of Mr Shrimpton's to see some lambs I had there, which I hyrd the keeping for; & as I was getting up again on my horses back he flounced and flung mee; and my foot was in the stirrop, & I down upon my back. and could hardly gett my leg out of the same: but thro' much difficulty at last I did it: and away he did run; and none were able to catch him. & twas gods great mercy, I had not been killed: The Lord be Praised for this deliverance allso: and my wife was at this very time in the straw, & then lay in of her 15th child; & what sad news must it have been to her: to have heard of my being killed…."
(Note: despite being almost continually in labour with 15 children in 18 years, his wife lived to the age of 85, long outliving her husband).
A great miry hole
– "Coming from London in a very dark night all alone and my horse fell in a great miry hole".
A runaway horse
– "and run over a great dog which flung both mee and my horse down in a great cart rack or hole in which there was water and killed the dogg… but I am sensible I deserved it… for I had then drunk too much wine with my friends."
© Miles Green March, Penn Parish Newsletter No.33, 2014
Photograph courtesy Eddie Morton ARPS