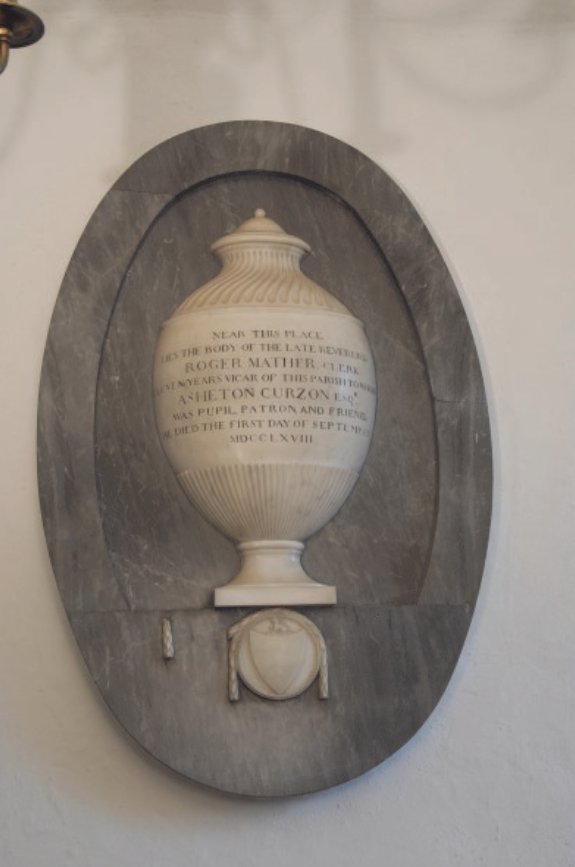 There is a very fine marble memorial in the Lady Chapel of Penn Church to Roger Mather, who was Vicar of Penn for 11 years. The inscription reads, 'Near this place lies the body of the late Reverend Roger Mather, Clerk eleven years Vicar of this parish, to whom Asheton Curzon Esqr. was Pupil, Patron and Friend. He died the first day of September MDCCLXVIII'
Assheton Curzon (1730-1820), was Sir Nathaniel Curzon's second son, a grandson of Sarah Penn. He was given the manor of Penn on marriage in 1756, and he was to hold the proprietorship of Penn church for over sixty years, later becoming Viscount Curzon.
The portrait below, by Arthur Devis (1712-87) was painted in c.1754. Assheton Curzon was then 24 and Roger Mather was 35. Mather was a Fellow of Brasenose College, Oxford, a Doctor of Divinity and Oxford's Public Orator for many years. Assheton Curzon also went to Brasenose where Roger Mather was Tutor to both him and his elder brother. In 1754 he was returned as MP for Clitheroe and he employed Mather to teach him the art of public speaking.
Just as his father's generation had appointed their Berkhamsted School teacher, John Bennet, as Vicar of Penn, so Assheton Curzon, as soon as he became the Proprietor of Penn church, exercised the same patronage for Roger Mather, who already held the Rectorship of St Mary's in Whitechapel. The Penn vacancy was held open for him for three years until he could take it up.
Arthur Devis, a Lancashire painter of the Tory squirearchy, was at the height of his popularity. He specialised in informal small-scale portraits in domestic surroundings, known as conversation pieces. The figures have a somewhat doll-like appearance which was very fashionable at the time. This portrait is very unusual in that it uses the idea of a spotlight focusing on the two actors on a stage thus emphasising the aspect of public speaking in which they were engaged.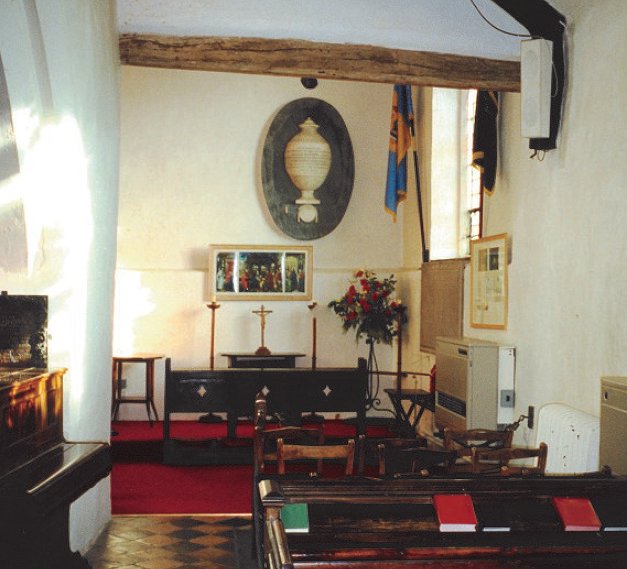 The sculptor of the monument is regrettably not recorded. The photograph illustrates that it was originally placed on the wall near the centre of the Lady Chapel, a mark of great respect since many of the Penn and Curzon family were buried nearby. It was moved in 2000 to permit the new Millennium arrangements which we see today. I watched two expert Polish craftsmen dismantle it into six separate components and reassemble it further along the same wall. They thought that the grey marble, which weighed 400 lbs, was probably English 'dove grey', no longer quarried, and the white marble was Italian 'Carrara', from a great quarry near Rome used by Michelangelo.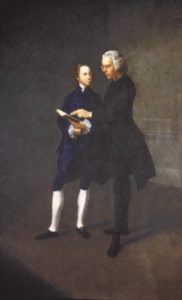 Assheton Curzon with his Tutor, Revd Dr Roger Mather c. 1754, by Arthur Devis. The portrait was still owned by a descendant of Assheton Curzon when it was sold by Christie's in 1981. This is a copy of a small colour print from Christie's catalogue which is framed in Penn House.
© Miles Green,Penn Parish Newsletter No.37, December 2014
Photographs courtesy Eddie Morton ARPS