William was only 13 when his father died in 1641 and so was made a ward of the Crown until he came of age, when a compounded sum of £1,450 would be due to the Crown. However, in 1645, when he was only 17, Parliament, still struggling for victory over the King, reduced the sum to £800 providing it was paid immediately, half to the Parliamentary governor of Windsor garrison and half to the governor of Henley, to be used for the purpose of reducing Bucks, Oxon and Berks in the Parliamentary interest.
Like most Buckinghamshire gentry he seems to have sympathised with the Commonwealth since he was High Sheriff of the county in 1656 at the age of 28, but he wisely headed the county's subscription list for Charles II's restoration in 1660.
He was a near contemporary of Admiral Sir William Penn (1621-70), the father of the famous William Penn the Quaker who founded Pennsylvania. Both he and the Admiral became convinced (wrongly) that they were descendants of the same family; the one pleased to claim a relationship with the leading Admiral of his day and the other, in reality the descendant of a yeoman, anxious to share the lineage of one of the three oldest families in Bucks.
William Penn the Quaker's diary records a visit to Penn Street in 1669, presumably to Penn House.  William the Squire's older sister, Elizabeth, was very probably already a Quaker, and just over a year later the Quaker recorded the dramatic conversion of a second sister.
"A sister of the family of PENN in Buckinghamshire, a young woman delighting in the finery and pleasures of the world, was seized with a violent illness that proved mortal to her." She had a vision of Christ "in the likeness of a plain countryman without any trimming or ornament whatever; and that his servants ought to be like Him".  She said to those around her, "Bring me my new clothes, take off the lace and finery"; and charged her relations not to deck and adorn themselves after the manner of the world." The heroine of the Quaker's story was William's youngest sister, Susan(na) Penn, who was buried at Penn church on 30 Dec 1670. Her widowed older sister Elizabeth was buried a week later, presumably a victim of the same 'violent illness'.
In c.1651, William married Sarah Shallcross, the daughter of Humphrey Shallcross of Digswell near Hatfield, High Sheriff of Hertfordshire in 1654.  They had the same coat of arms as Sir John Shallcross of Shallcross, a small village on the edge of the Peak District.  Sir John Shallcross was Sheriff of Derbyshire in 1638 immediately following Sir John Curzon of Kedleston.   The Shallcross connection may have led to the Curzon connection with Penn.
William and Sarah had 11 children, spread over 25 years between 1652 and 1677.  Only two boys survived to adulthood and John, the eldest, died aged 31, ten years before his father, leaving only Roger Penn, who was to be the last of his family's name. Only one daughter married – Sarah, who was the wife of Sir Nathaniel Curzon, the direct forebear of the Earls Howe.
Portraits of the young couple and their family still hang in Penn House, painted by F.van Hees, a Dutch portraitist of considerable quality, but of whom almost nothing is known, even by the Netherlandish Institute for Art History at the Hague.  A comparison of the ages of those in the portraits with the information in the recently revised Penn family tree (see below), suggests that he paid three visits to Penn House, in about 1651, 1656 and 1660, to paint 7 portraits.
Many of the portraits have names and dates added in gold paint, which cannot always be trusted since they seem to have been added many years later.
The portraits are:
In 1651 – William Penn, then 23, and Sara Shallcross, probably a little younger, since she went on to have so many children.  The portraits are clearly a pair and presumably mark their wedding.
In 1651 -'Mr Shallcross, one of Sarah's two brothers, probably Francis.   It is unsigned.  He is holding a paper on which is written "For my Deare sister Mrs Sarah Pen att Pen Place".  It may well have been a wedding present.   There is man o' war in the background.  Francis inherited the manor of Digswell, Herts, from their father Humphrey in 1665 and there is a memorial to him dated 1681 in Digswell church.
There is also a later portrait in Penn House, probably 1660, with the description 'Mr Shallcross'.  It is unsigned.
In 1656 – A group portrait of their four young children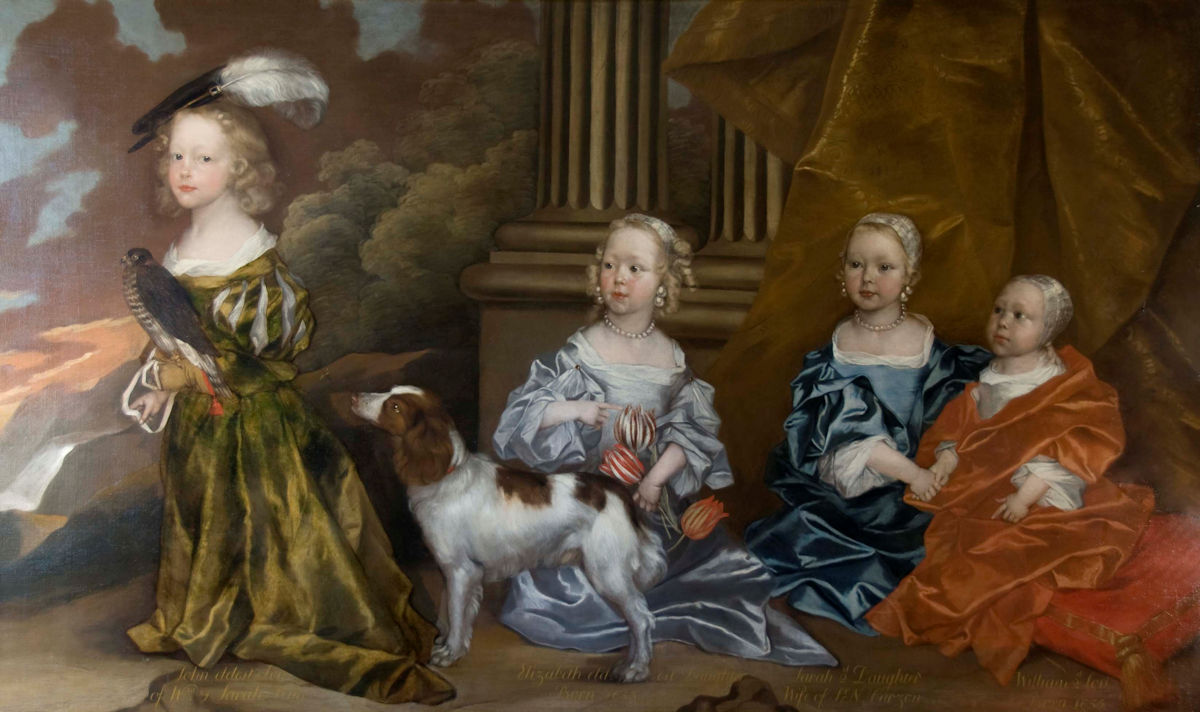 William & Sarah's four oldest children and their dog, by F.van Hees in c.1656.  Their names have been added below at a later stage (from left), as 'John eldest Son of Wm & Sarah Penn', 'Elizabeth eldest daughter Born 1653', 'Sarah 2nd daughter Wife of SrN Curzon', and 'William 2nd Son Born 1655', and this accords with the
Penn Family tree 16th to 18th century (PDF opens in new window)

In 1660 – William & Sarah with their four surviving children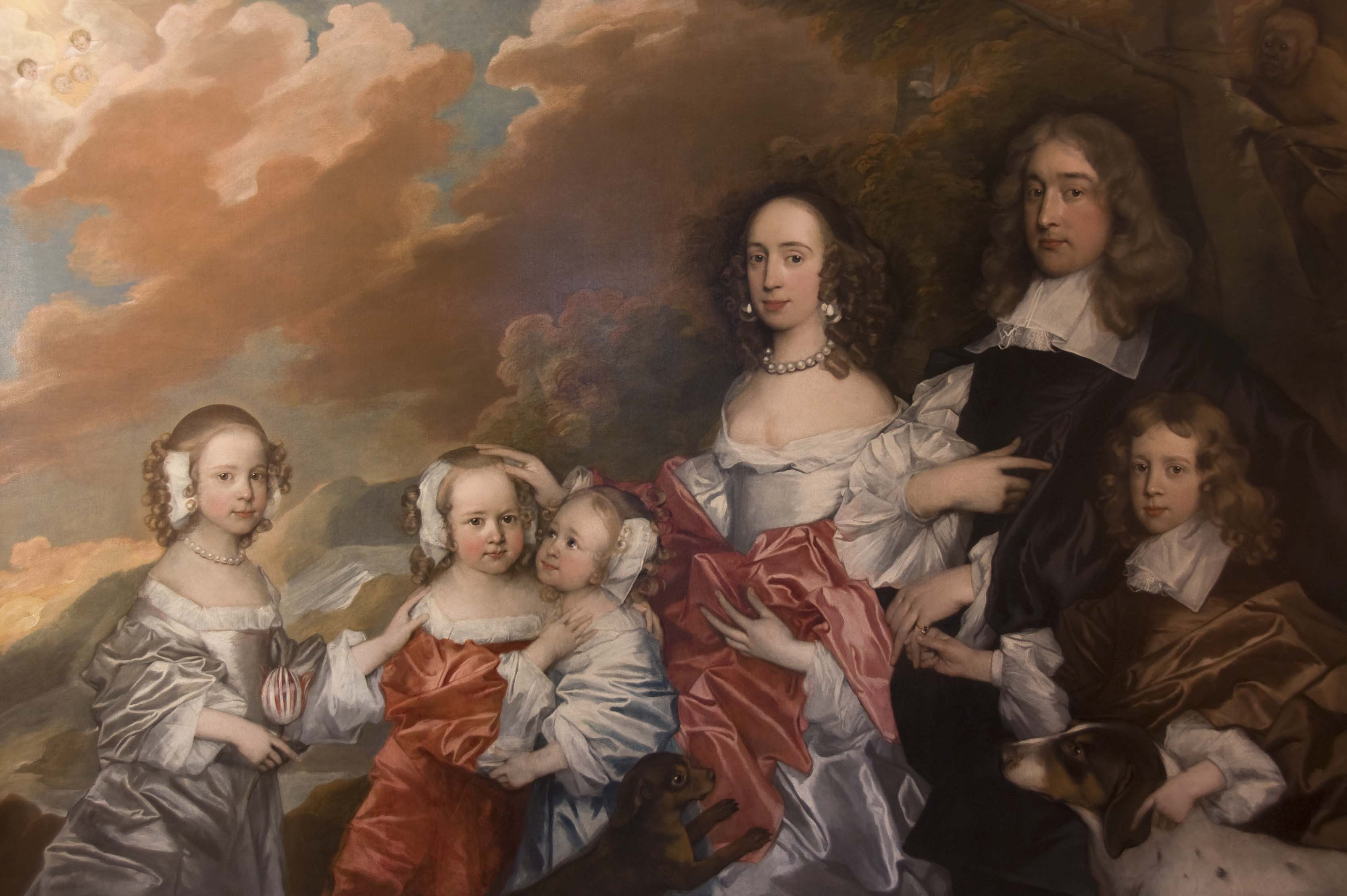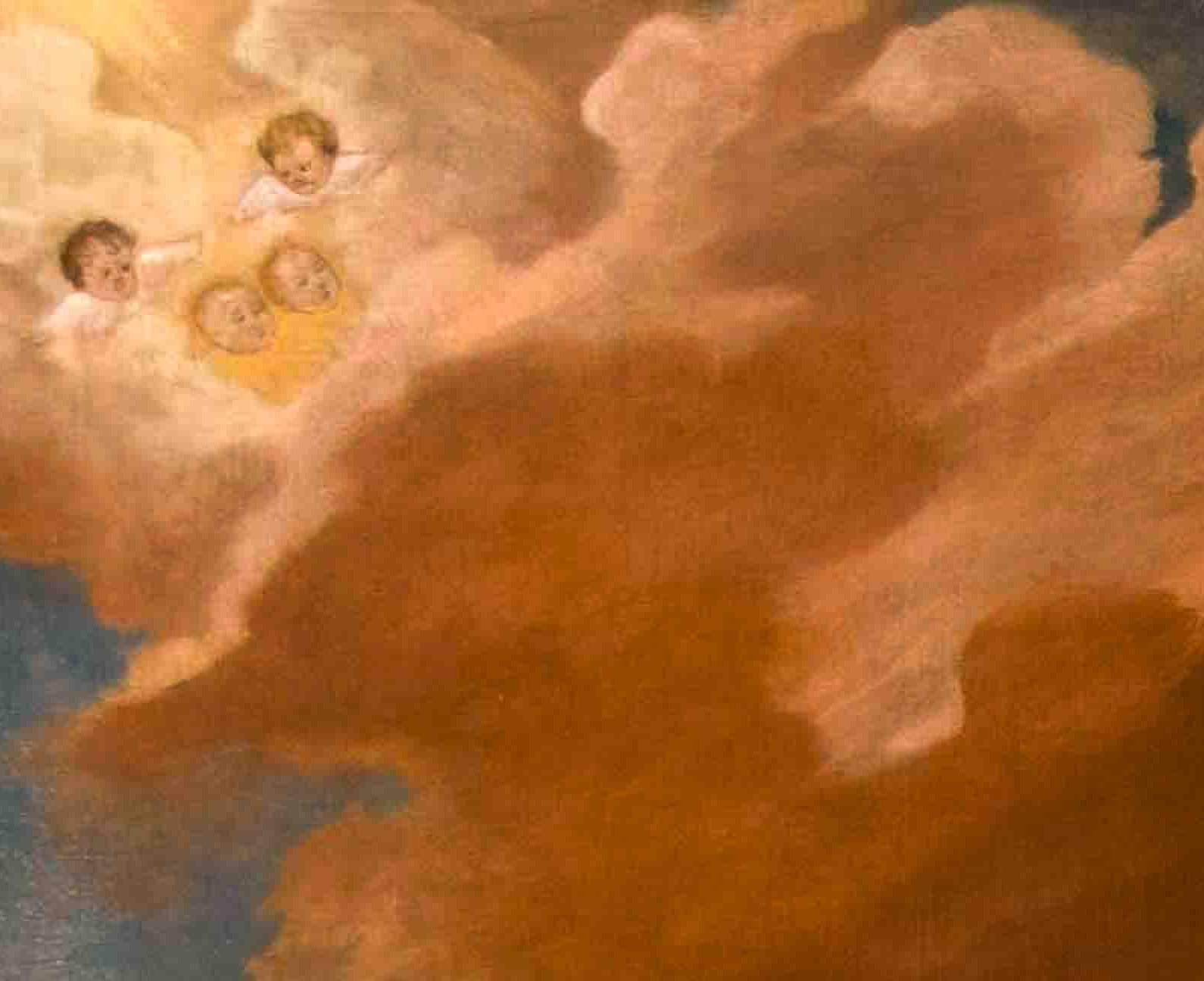 William & Sarah with their four surviving children in c.1660, by F.van Hees.  To accord with the earlier portrait and family tree they are assumed to be (from left) Elizabeth, Sarah Martha, & John.    (click images to enlarge)
Their two dead sons, William and Humphrey, were added in the top L.H. corner as 'angels', probably the two with dark hair and wings.  Two later babies who died, Mary and Francis, must have been added after Francis died in 1669.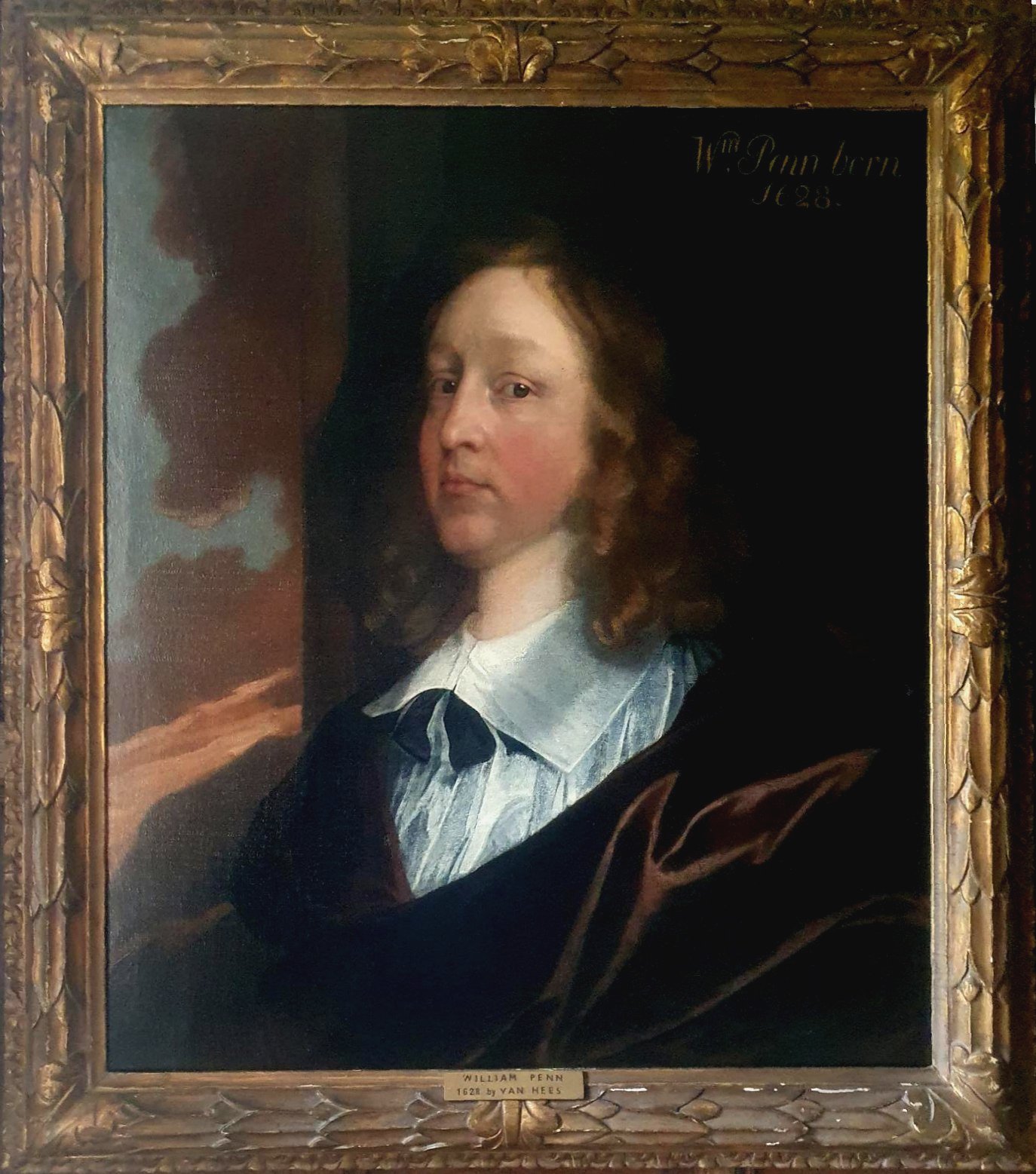 1660 – 'Brother of William Penn'.  This must be Edward, the only brother who survived to adulthood (1639-1708). He would have been 21 in 1660.  It is unsigned.   He inherited Chalfont House in Chalfont St Peter as well as property in Hedgerley from his mother's  Drury family (see British History)  He had one son, Marmaduke.  What is taken to be a later portrait of Edward, has the partly erroneous description, "The father of Marmaduke and cosen of William Penn"
The memorial on the chancel wall shows the arms of both families (with the Penn roundels mistakenly re-painted in gold rather than silver).
"This is placed in memory of
William Penn Esquire,
who died on
the 12th day of May
in the year of the Lord 1693,
at 64 years of age,
buried, at his wish,
outside in the cemetery"1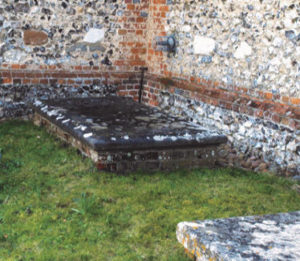 William died in 1693, aged 64, and the monument on the north chancel wall records that he was buried at his request in the cemetery outside the church. This was unusual because the family vault was beneath the chancel. His wife died five years later and their grave, the oldest still legible in the cemetery, is a brick altar monument with a black marble top just outside the chancel south wall.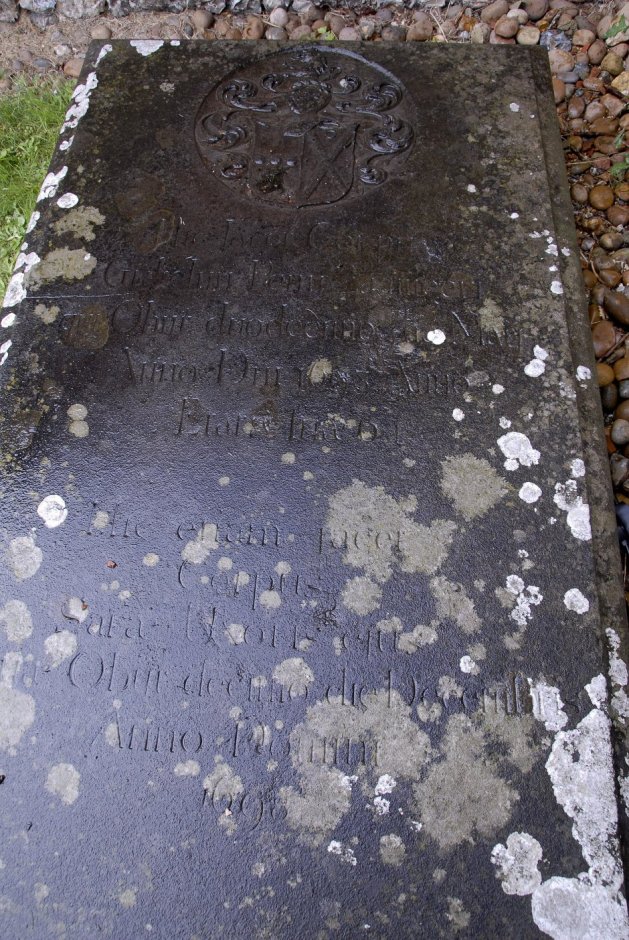 Hic iacet Corpus
Gulielmi Penn Armigeri
qui Obijt duodecimo die Maij
 Anno Dni 1693 Anno
Etatis suae 64
Hic etiam iacet
Corpus
Sara Uxoris eius
Obijt decimo die Decembris
Anno Domini
1698  
Here lies the body of William Penn Esquire, who died on the 12th day of May in the year of the Lord 1693 at 64 years of age.
Here also lies the body of Sara his wife. She died on the 10th day of December in the year of the Lord 1698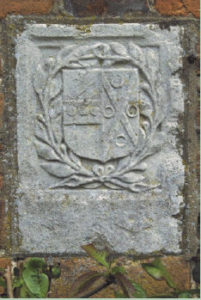 The Shallcross arms also appear on a plaque outside Penn House suggesting that the house was extended in their time.
Penn Family Tree, 16th to 18th century, (PDF opens in new window)
© Miles Green, Penn Parish Newsletter, No.14, April 2010
Photographs, courtesy Eddie Morton, ARPS.
Penn Pen Penne Penna
We are grateful to Earl Howe for permitting the use of the family portraits and for his expert help with translation and his discovery of a scribing mistake in the penultimate line of the wall memorial which initially confused us.
The 'f' of 'fuce' is the expected old-fashioned 's,' but 'ce' should have been elided to make 'æ', thus rendering 'suae'.