We saw in a  previous article that Sir Nathaniel, the second son of Sarah Penn, was born in Penn and went to school at Berkhamsted. He unexpectedly inherited the baronetcy in 1727 when his elder brother was thrown from his horse whilst hunting. He also inherited the Penn Manor and proprietorship of Penn Church when his uncle, Roger Penn, died in 1731 and immediately set about 'modernising' the church he knew so well.
He may have been encouraged to do this by a fire in the chancel, because according to Sir George Grove, writing in 1886, the chancel was burned down and rebuilt 1. There is no other record of the fire, but it does explain the very radical alterations made to the chancel by Sir Nathaniel, presumably in 1736, since this is the date above his private side door to the chancel.
The medieval chancel was rebuilt, lengthened by about seven feet and widened to the south by three feet. This explains why you can see outside that the ridge of the chancel roof is offset from the ridge of the nave by about 1½ feet and why, inside, the new round-headed chancel arch is visibly off-centre from the nave roof above.
The three monuments to Roger Penn's sisters, who were buried between 1719 and 1728, are not centred in the floor of the widened chancel and this is a strong indication that the chancel had not already been widened in medieval times. It would anyway have been very unusual for a medieval chancel to be widened on one side only since this would have put the chancel out of action for months which was not then acceptable. The normal practice was to build the new chancel around the old and so reduce the disruption to a minimum.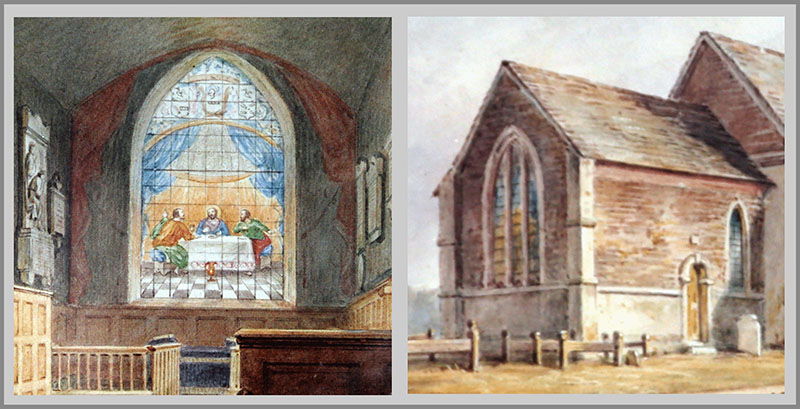 A new 'painted' east window, showing Christ with two disciples at Emmaus, (by "John Rowell of Wycomb") was put in. The new chancel became a focus for the very fine 18th and 19th century Curzon and Howe family monuments, nearly all carved from white marble, which fill the chancel walls. We know what the chancel looked like when this reorganisation was completed because we have Henry Ziegler's watercolour of c.1850 (of which there is a photograph on the cross aisle pillar in the nave). He was drawing master to Queen Adelaide and drew very accurately.
"John Rowell of Wycomb", by Ambrose Heal, Reading Mercury, 9th July, 1932 (PDF opens in new window)
The window was replaced in 1865 and again in 1931 to accomodate changes in worship style.  See: Altar Arrangements in Penn Church, Part 4.
© Miles Green, Penn Parish Newsletter No.40, November 2015 (revised 2021)
Original Photographs © courtesy of Eddie Morton ARPS
Edited composite photographs, Michael G Hardy.