The inscription on the marble monument on the wall of the nave at the back of the church tells us that Daniel Baker died in 1727 (Old Style) after 41 years in the parish, and Martha Baker died in 1753, aged 85, having delivered no less than 17 children – nine sons and eight daughters. Four of her surviving sons inherited the estate in turn, but none had any children and the estate eventually passed via their youngest daughter, Dorothy Holroyd (portrait), to her son, John Baker Holroyd, who, as the inscription tells us, put up the monument in 1770 to fulfill the instructions of his grandmother, Martha Baker.
John Baker Holroyd was eventually to become Earl of Sheffield, a government minister and Privy Councillor. He was 33 when he inherited the Baker estate in 1768 and added their name to his own. He sold the house the following year and bought Sheffield Place is Sussex. There was a grand sale of all the contents of the house for which the sale catalogue survives and is well worth a closer look, but first let us consider our own important legacy from the Baker family's presence in Penn for the best part of a century.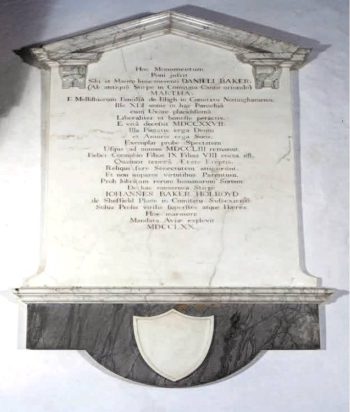 In 1726, Daniel Baker obtained an agreement from the lord of Bassetsbury Manor to 'rail and beautify' the common by 'planting elm or other trees in Walks, Rows, Knolls or Clumps' on the 'Wast Ground of Tylering Green' – in effect to create a park in front of the mansion house. Similar agreements in 1740 and 1745 with the manors of first Penn then Bassetsbury, allowed his son to plant trees extending as far as 'Potters Lane Bottom'; and up beyond 'Great Widmore Pond', which he was allowed to stock with 'Carp, Tench or other Fish'.
The 1761 Rocque map shows four rows of trees in front of the house, but they stop far short of Potters Cross, probably because the first enclosure on the Front Common had already been made by the future owner of the Old Bell House in 1746. The elm trees which gave Elm Road its name were finally cut down in 1977. It was only these agreements for the benefit of the mansion house, which the Bakers often called 'Tylers Green House', that had prevented encroachment and building on the common opposite and so bequeathed to us our open common and pond as well as the elm trees.
© Miles Green, Penn Parish Newsletter No.34, March 2014
Photographs courtesy Eddie Morton ARPS