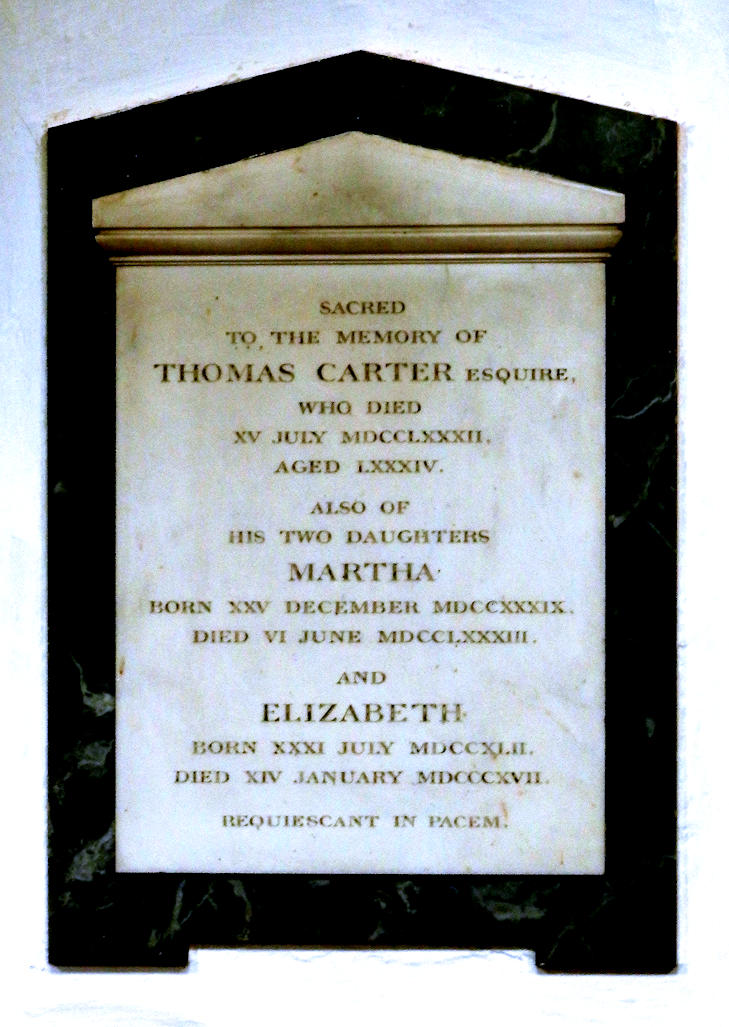 Thomas Carter owes his appearance in the annals of Holy Trinity to the fact that he was the son-in-law of Daniel Baker & Martha Mellish, the owners of a grand, timber-framed medieval mansion in Penn next to Widmer Pond, known as Tylers Green House, which later became Edmund Burke's French School.1
He was a lawyer at Grays Inn in London and came from Wistow in Huntingdonshire2.  He married Joanna Baker on 16 June 1737. The marriage was not encouraged by her family, but he was a 41-year-old widower and she was then 'aged 30 years and a spinster' and was determined that it should go ahead.  It took place in London without her parents' knowledge, probably at the Ely House Chapel Holborn.
Sadly, the marriage was not a long one and Joanna was buried on the 9th of September 1749, noted in the Holy Trinity Penn register as the wife of Thomas Carter, Meanwhile, her younger sister, Dorothy, had married John Holroyd who was to become the Earl of Sheffield and add the name Baker when he inherited their Penn estate, which he sold in 1769.
The Carters had three daughters, Martha born 1739, Elizabeth born 1742, and Harriet born 1747.  The first two daughters never married and remained part of their father's household for the rest of their lives.  Harriet married Sir Henry Clinton (1730-1795) in February 1767 at St Georges Hanover Square.  Henry Clinton was a very distinguished soldier who succeeded General William Howe as Commander-in Chief of the British Army during the American War of Independence.3
Harriet died, aged only 25, just eight days after giving birth to her fifth child.  Thomas and his two unmarried daughters then moved into the Clinton family home in Weybridge to take care of the children and where they seem to have lived out their lives.4  This accounts for the description of Thomas as 'of Weybridge' in the Penn Parish burial register.
All the Carters, except Harriet, were eventually buried in Penn, presumably because Joanna was already buried there, and so it is strange that she is not remembered on the Carter wall memorial. This might be explained by the fact that it was not put up for at least some 70 years after Joanna's death, when her daughter Elizabeth died in 1817.  Harriet herself rests in the churchyard at Baumber5 Nr. Horncastle in Lincolnshire where the Clinton family came from.
This is not the end of Thomas Carter's story, as his name appears on a "Centre for the Study of the legacies of British Slavery" website set up by University College London. In 1774, Carter purchased two £50 annuities on the lives of his daughter Martha and his grandchildren Augusta (1765-1852) and William Henry Clinton (1769-1846), the children of his youngest daughter, Harriet.  The annuities were secured on a property containing the enslaved people of John Abel Ward on Nevis in the Caribbean.
Later, Augusta was to elope with (and later marry) Henry Dawkins from a Jamaican slave owning family.  In the same year Thomas Carter was also party to a deed with 23 other purchasers of annuities, from Agustin Gwyn secured on the Mount Charles estate and Middleton Pen in Jamaica.
© Ron Saunders May 2022