Earlier articles have examined the information to be found from the two impressive Baker family monuments on the wall of the nave, but there are many affectionate and interesting family letters in the archives in Aylesbury, reporting on their busy social life, and the problems of the day.
For instance, this charming letter from Sarah at 16 to her 21 year-old brother John in London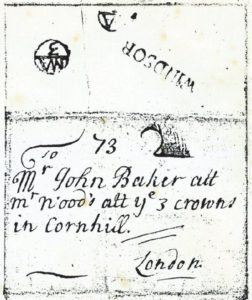 "March ye 8th the Clock past Seven 1711
Dear Brother,
Lest you should think I have forgot you quite I am resolved now to you I'll write tho' all I have to say is that I'me well knowing no more at present for to tell being in haste I cannot fill my paper but am your humble servant Sarah Baker Accept my Service as it is your Due
I shall expect an answer soon from you."             
To which John replied with a long poem which ends:
"Therefore when you write again, Write humble prose, Which greater love, tho less invention shows."
A fierce patriotism is evident in a letter from 21 year old Ann Baker to the same brother, John, in 1707.
"We are all here concerned at the news of the invasion by the pretended Prince of Wales, but our Country is so well affected to her majesty and bear so mortall a hatred to the French that they will spend the last drop of their blood in defence of their Queen and religion rather than tamely yield to the usurper. I hope God will protect her sacred majesty and give success to her armies and bring all our enemies to destruction."
And from John Baker in 1716:
"We have a current report here that the Pretender is landed in Scotland….Stocks are falling upon this report. The Streets are so very bad in London that we have severall Coaches overturned every day and severall full of ladies! by which means we have an opportunity of helping them out and seeing the Colour their stockings are of. We have all passed the Thames from Westminster to Lambeth on foot, it is soe cold that I can scarce hold my Pen."
In a letter from Daniel Baker to Lord Fermanagh, in 1723, we hear him deploring a problem very familiar to all of us today.
"Many extravagant Persons make such vast falls of timber and such utter destitution among their woods, that in time we shall have but little or none left in the Kingdom."
Agreements made in 1740 with Sir Nathaniel Curzon, as lord of the Manor of Penn, and, in 1745, with Sir Francis Dashwood as lord of the Manor of Bassetsbury in Chepping Wycombe, allowed the Bakers to plant trees on the common or 'waste' in front of their house, anywhere between Potters Cross and what is now the gate to Rayners School, as well as 200 yards west across the common to 'the gravel pits'. This is likely to have been when the elm trees were first planted that gave Elm Road its name. Some of them survived until struck down by Dutch Elm disease in 1977. The agreements also allowed the Bakers to stock with fish, 'that part of Pond called Great Widmore Pond adjacent to the said Mansion House' and an earlier agreement, in 1726, spoke of 'Carp, Tench or other Fish'.
© Miles Green, Penn Parish Newsletter No.32,  January 2014
Photographs courtesy: Eddie Morton ARPS