John Bennet was still only 37 when he was first appointed as Vicar of Penn in 1700 by his former pupil Roger Penn, who was himself only 23, having inherited the manor of Penn from his father when he was 16. So Vicar and Patron, good friends, young and enthusiastic, set about transforming the church and Vicarage. The first few years Bennet concentrated on finishing off and improving the new Vicarage started by his predecessor. He was its first occupant and had no curate, by no means typical of the time. His successor for instance was to live in Amersham and let one half of the Vicarage to a carpenter and the other half to a shoemaker.
John Bennet then turned his attention to the church, to the bells in particular, which he obviously regarded as an important declaration of the church's presence. We know from churchwardens' accounts elsewhere (none survive for Penn at that time) that bell-ringing was popular in the 18th-century. The late medieval church had four bells and a sanctus bell (a small bell rung during the high point of the Mass when the host was raised, the bell rope for which has left deep channels in the stone work at the side of the nave west door). One of the bells had gone by 1637, and perhaps more by 1700. Anyway he decided that they should all be  replaced and ordered five new bells for 'Penn-Church Steeple' from Samuel Knight, a Reading firm, which were cast in 1702 and hung on 5th January 1703.
Each bell had its own inscription:
I AS TRBELL DO BEE GIN 1702

FEARE GOD HONOUR THE KING 1702

SAMUELL KNIGHT KAST THIS RING 1702

IN PENN TOUR FOR TOO SING 1702

UNTO THE CHURCH I DOO YOU CALL. DETH TO THE GRAVE

WILL SUMMANS ALL
THOMAS WINTER AND WILLIAM WINGROVE CW 1702
Three of these bells are still in place today after three centuries. A sixth (treble) bell was added in 1919. The largest bell, the Tenor (no. 5, now no. 6 ), weighs ½ ton  and has a diameter of 3 ft 8 ins.The five bells together weighed nearly 2 tons. (CW stands for Church Wardens.)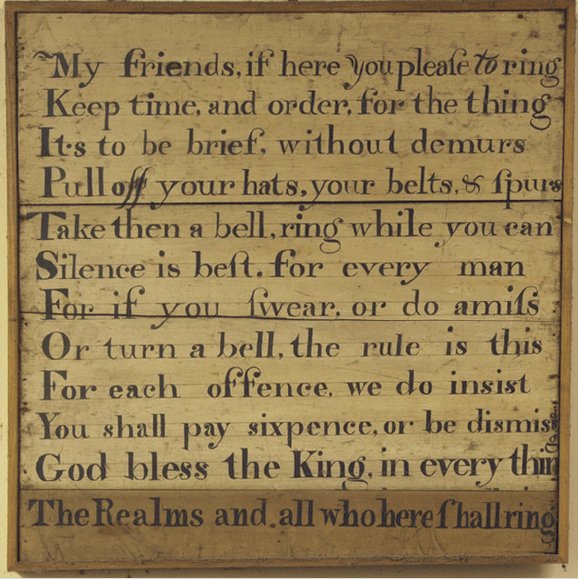 On a board in the ringing chamber is a poem painted on a board, probably at about this time, although the reference to a king puts it after Queen Anne died in 1714.
© Miles Green, Penn Parish Newsletter No.21, July 2011
Photographs courtesy Eddie Morton ARPS