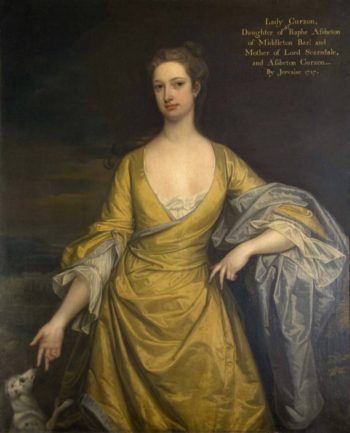 In 1716, Mary Assheton was 21, the second daughter of Sir Ralph Assheton of  Middleton, Lancashire, and was married that same year to 40 year-old Nathaniel Curzon, Sarah Penn's second son. This portrait by Charles Jervaise was painted in1727 , and hangs in Penn House.  This was the year when her husband inherited
the baronetcy with the Kedleston and Penn estates after his elder brother was killed in a hunting accident.
Charles Jervaise (or Jervas) studied under Kneller and succeeded him as Court painter in 1723, although Kneller had a poor opinion of his talents. 'Ah! Mein Gott, if his horse draws no better than he does, then he will never get to his journey's end.'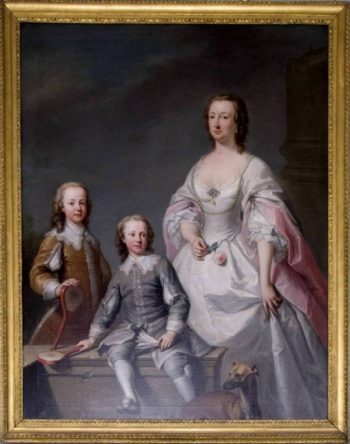 The second portrait is of their two surviving children, Nathaniel and Assheton, in c.1738, by Andrea Soldi, which hangs in Kedleston Hall in Derbyshire. Nathaniel (standing) would have been about 12 years old and his brother Assheton, 9. Nathaniel, later 1st Baron Scarsdale, inherited the Kedleston estate and Assheton, later 1st Viscount Curzon, the Penn estate and with it the proprietorship of Penn Church. There is an identical portrait, save that the boys are not wearing 'Vandyck' dress, at Parham House in Sussex, the house of one of Assheton Curzon's sons.
Andrea Soldi (1703-51) from Florence, had begun his career by painting British Turkey merchants in the Levant and it was on their recommendation that he came to England in 1736. He was an immediate success introducing a dash of skill, wit, colour and flair, but he wasted all his money on an extravagant lifestyle and in 1744, at the height of his career, he was imprisoned for debt and his career never really recovered.
© Miles Green, Penn Parish Newsletter No.42, March 2016
Photograph © courtesy of Eddie Morton