In the centre of the chancel floor at Penn is a typical black Georgian tomb-slab headed by the Penn arms and with the words 'Here lies the body of Roger Penn Esq. Lord of this Manor, who died, unmarried, March the 17th 1731, in the 55th year of his age'. Three of his sisters, Henrietta, Martha and Elisabeth Catharina are buried near him. We know that he was a JP from 1702-4, Sheriff for the County in 1706 at the age of 29, and is recorded presiding over his manor courts appointing clergy and improving the chancel of Penn church. Roger Penn was the last male heir of the Penn family which had held the Manor of Penn since the 12th century, probably since the Conquest. His three older brothers all died young before he was born and so he grew up always knowing that he was the last male Penn heir. The pressure on him to marry and continue the Penn family line would have been very strong and as a rich and very eligible bachelor he would have had a wide choice of brides, so his decision not to marry against this weight of family expectation is unexpected.
We do know that he made an attempt to pass on the estate to William Penn the Quaker's son Thomas Penn, both mistakenly believing that the two families shared a common ancestry.  Thomas Penn's youngest daughter Sophia used to relate that when her father was a very young man, she thought probably in about 1725, he received a letter from Roger Penn, the unmarried squire of Penn Manor 'saying he was going to make some settlement of his estate and if Thomas Penn would like to buy his property he would be ready to part with it. He desired, however, an immediate answer. Thomas Penn, pleased at this offer, wrote at once and accepted the proposal, but the servant entrusted with the letter never delivered it. When some days had elapsed, and old Mr Penn of Penn received no answer, he would not wait any longer, and settled it on the Curzon family'.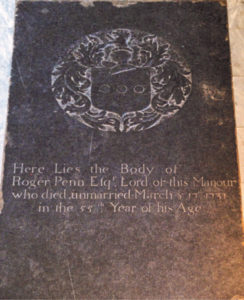 There may be another more convincing explanation for this rather strange story. Thomas Hearne, the well-known Oxford antiquary and diarist, described Roger Penn as 'a very honest gentleman and a very good scholar, but reported that he had lived for some considerable time almost altogether in his room, keeping no company, 'being as it were in a crazed condition'. We also know from the contemporary Vicar of Penn that Roger Penn suffered from acute mood swings and drank heavily. His last years were marked by great unhappiness. In 1728, his two surviving unmarried sisters, about 20 years older than him and effectively surrogate mothers who had probably been keeping house for him, both died within months of each other. Their brother died three years later.
Thomas Penn later tried to buy some land in Penn, on Beacon Hill, but never succeeded and eventually purchased Stoke Park. His four older children, who all died young, are buried in a vault under the nave of Penn Church. The Penn Estate was inherited by Roger's elder sister, Sarah, who was married to Sir Nathaniel Curzon of Kedleston Hall.

Note: Considerably more about Roger Penn's life and personality was summarised in an earlier Parish Newsletter (Feb/Mar 2004) – Roger Penn, 'the last of all his Family'
© Miles Green, Penn Parish Newsletter, No.16, September 2010.
Photographs courtesy Eddie Morton ARPS.