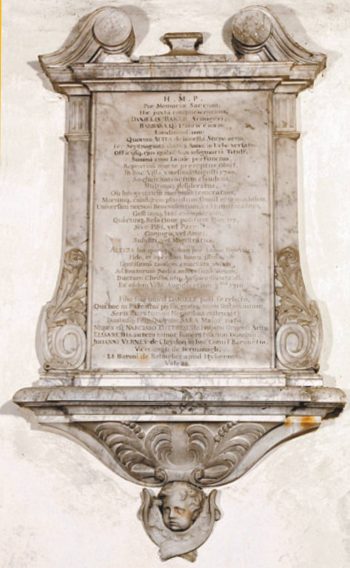 My previous article looked at Daniel Baker, the extraordinarily prosperous London merchant remembered on this monument on the north east nave wall of Penn Church. The monument also remembers his wife, Barbara, and this is a portrait of her attributed to a follower of Jacob Huysmans who was a Flemish portrait painter, one of the fashionable painters at the court of Charles II. It was one of eight Baker portraits put up for sale by Christie's in 1990. The expected price was £2-4,000.
She is dressed in black and may have been in mourning for her husband who died in 1700. The coat-of-arms on the portrait combines her own family arms with those of the Baker family although neither had been recognised by the College of Arms. The claim to a coat-of-arms was important in those days, particularly to a family rapidly ascending the social scale.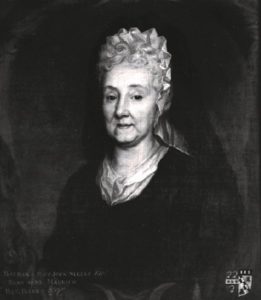 Barbara Baker had one son, Daniel, and two daughters, Sarah and Elizabeth, who both married interesting people. Sarah was married to Narcissus Luttrell, a historian and MP who wrote a unique diary covering parliamentary and national affairs from 1678 to 1714 and had one of the most impressive libraries of his day. Her youngest child, Elizabeth, was married to Sir John Verney of Claydon, who later became Viscount Fermanagh. She was his third wife and over 30 years younger than him. She was described as kind, sensible and so well educated that she embarrassed the older generation whose spelling was 'flavoured to taste'. She was buried in Penn in 1737 and Lipscomb's History of 1847 records that there was an 'atchievement' (i.e. a hatchment) displaying her Arms on the north wall of the nave. This is no longer there and was probably removed when wall space was reduced by the discovery of more windows when the exterior roughcast was taken off in 1955. Claydon, near Buckingham, is now owned by the National Trust.
Barbara Baker's will was written in 1701 and gives each family £30 for mourning. She gave Elizabeth £100 'for her own separate use' and various items of furniture and silver. The nine children of her son Daniel were each given £300 (for the boys) and £500 (more for the girls for their dowry  perhaps) to be 'hoarded up by their father' and paid 'with interest and profits' when they were 21, or for the girls, when they married.
She gave £5 'to the poor of the parish of Penn where she desires to be buried' and a further £5 'to be buried in linnen, whereby £5 more will accrew to the said poor'. Her son Daniel was her sole  executor and received the bulk of the estate. When considering the amounts of these bequests we should bear in mind that the modern equivalent of £5 in terms of average earnings seems to be an astronomical £10,000, and so £500 is £1million.
© Miles Green, Penn Parish Newsletter No.29, January 2013
Photos courtesy Eddie Morton ARPS