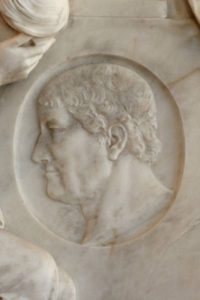 The portrait of Assheton Curzon illustrating the previous article was as an old man of near 90, and he is also shown in profile on the fine marble wall monument by Sir Francis Chantry in the chancel of Holy Trinity.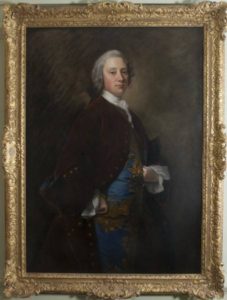 There is also a portrait which was acquired by Earl Howe a few years ago which shows him as a young man, perhaps when he first got married to Esther Hanmer in 1756 and took over the Penn Estate. The portrait is by Thomas Hudson (1701-79), who painted George II and is described as the most successful London portraitist of the mid 1700s.
A wall monument in the chancel of Holy Trinity's records that Assheton Curzon had to endure the early death of two wives.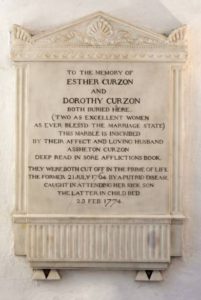 He had one son by Esther Hanmer, Penn Assheton Curzon, who, through his mother, was eventually to inherit the Gopsall estate with probably the grandest country house in Leicestershire. Only one surviving portrait of Penn Assheton Curzon is known, as a very young boy. It is by Joseph Wright of Derby (1734-97) who was a very successful landscape and portrait painter known for his use of strong contrasts between light and dark in order to achieve a 3D effect.
He followed the well-trodden familial route via Westminster School and Brasenose College , Oxford, before becoming an MP in family held seats, holding successively Leominster, Clitheroe and Leicestershire from 1784.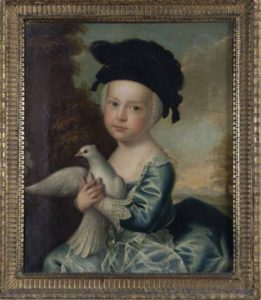 He was a strong supporter of William Pitt the Younger who was Prime Minister for 20 years. Earl Howe pointed me to an acerbic description of him in contemporary correspondence as 'an inactive Member in the House and, out of it, a perfect nuisance.' 1 but to be fair, there is no other evidence for this.
See also Viscount Curzon 1730-1820
© Miles Green, Penn Parish Newsletter No.44,  May 2016
Photographs© courtesy of Eddie Morton ARPS