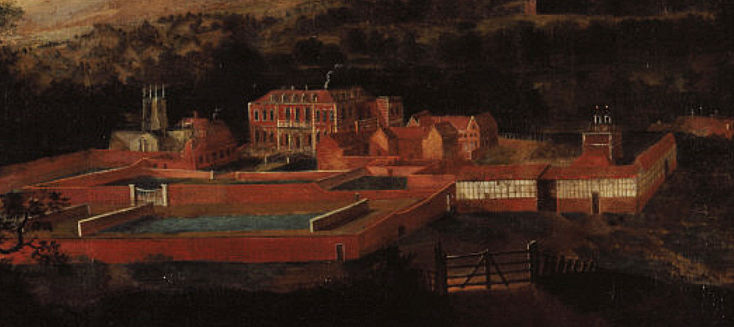 We saw in the previous article that the 2nd Sir Nathaniel Curzon inherited Kedleston Hall in Derbyshire in 1686, but he and his wife Sarah (née Penn) had been living in Penn since 1671 and their younger boys were still at school at Berkhamsted. He does not seem to have moved to Kedleston until 1691 and in c.1700 commissioned Francis Smith of Warwick to build the red-brick house with stone dressings shown in the painting (attributed to Jan Griffier I), keeping its older brick and timber-framed outbuildings and simple walled garden enclosures. The church was the only building shown in the picture to survive when the old hall was pulled down. This house was in turn pulled  down in 1759 to build the present Kedleston Hall.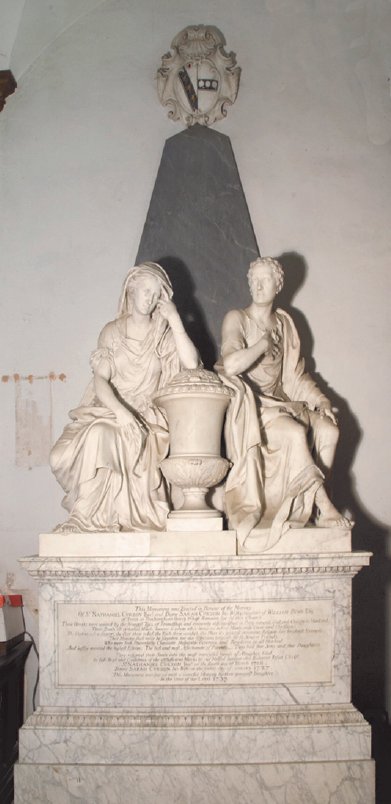 On the west wall of the north transept of Kedleston church, the ambitious standing wall monument by Peter Scheemakers, a noted sculptor of the day, shows husband and wife in Roman dress and was put up by their youngest daughter, Eleanor (the only child born at Kedleston rather than Penn), in 1737. The monument is the only surviving record of what either the second baronet or his wife looked like, although, as we have seen, a portrait of Sarah as a child survives.
Peter Scheemakers (1691-1781) was from Antwerp where his father was a sculptor. He spent several years studying in Rome, settled in London in c.1730 and rapidly became very successful. One of his very earliest monuments was to Montague Drake of Shardeloes in Amersham church and his most successful work was the statue of Shakespeare in Westminster Abbey.
Penn Arms: Note that the three roundels on the Penn arms are silver, not  the mistaken gold on the Penn arms in Penn church.
© Miles Green, Penn parish Newsletter No 18: February 2011
Photographs courtesy Eddie Morton ARPS