In the centre of the chancel floor at Penn is a typical black Georgian tomb-slab headed by the Penn arms and with the words 'Here lies the body of Roger Penn Esq. Lord of this Manor, who died, unmarried, March the 17th 1731, in the 55th year of his age'. Three of his sisters, Henrietta, Martha and Elisabeth Catharina are buried near him.
Roger Penn was the last male heir of the Penn family that had held the Manor of Penn since the 1ih century, probably since the Conquest. An obituary in the Northampton Mercury asserted that 'he was a gentleman possessed of many excellent qualities of great virtue, extensively charitable to the Poor & kept up the good old English Hospitality'. A contemporary, Thomas Hearne, the well­known Oxford antiquary and diarist, described him as 'a very honest gentleman and a very good scholar', but reported that he had lived for some considerable time almost altogether in his room, keeping no company, 'being as it were in a crazed condition'. John Chenevix Trench, the former Editor of Records of Bucks, must have had this report in mind when he added a footnote to his transcript of the Penn Parish Register to the effect that Roger Penn was feeble-minded, probably because of Down's syndrome, a result of an elderly mother after 22 years of child-bearing.
On the other hand, we know that Roger Penn was a JP from 1702-4, Sheriff for the County in 1706 at the age of 29, and is recorded presiding over his manor courts appointing clergy and improving the chancel of Penn church. These contradictory descriptions can now be reconciled by another contemporary testimony, that of the Rev. Benjamin Robertshaw whose memoir is held in the Bucks Archaeological Society's library in Aylesbury. Benjamin Robertshaw succeeded John Bennet as Vicar of Penn from 1716-28, although he continued to live in Amersham where his wife came from and where he was headmaster of the Free School.
Robertshaw's memoirs, well written and carefully punctuated, include a perceptive account of Roger Penn who was his near contemporary (two years older), and had presented him to the living. They both had an Oxford degree though not at the same college. Robertshaw described 'my good friend Roger Penn of Penn Esqr.' as 'one of the best bred Country-Gentlemen I ever saw', well educated with an excellent memory and a particular fondness and understanding for the classics, especially the poets, who he could quote appropriately, at length and with understanding and feeling. He was a delightful conversationalist, 'to the great delight of all the merry mortals about him', and 'coud admirably adapt himself to all tempers, as well as to all sizes of understanding'.
Roger Penn, according to Robertshaw, 'made very shrewd remarks, both upon persons, and things, & was very seldom mistaken in his conjectures.' He 'principally loved a generous openness, & ingenuity of heart' and 'chose to be, rather than appear godly', because he abhorred any pretension, especially 'trickings & hypocrisy & little narrow soul'd stingy doings' of 'those Saints in countenance, whose practice he did not observe to be more vertuous, than that of their less ostentatious neighbours'. He was 'a firm Member of the Church Establish'd' .
The object of the abhorrence shared by both Robertshaw and his Patron, were Protestant Dissenters and Whigs, or 'Whigs and infidels' as described by Robertshaw. The memoir makes it clear that Robertshaw and many of the local gentry were vehement High Church Tories. They were Jacobite sympathisers and greatly resented the Hanoverian George I who had succeeded Anne, the last Stuart sovereign, in 1714. In 1715, Robertshaw preached publicly in favour of James Stuart, the Old Pretender, the Catholic son of James II and he was also chaplain to the Earl of Scarsdale who was arrested as a Jacobite supporter the same year. Since Roger Penn presented Robertshaw as Vicar of Penn in 1716 and they were such good friends, it is fair to assume that they shared a common view.
If Robertshaw had added no more, we would have seen Roger Penn as a paragon of virtue, but perhaps sharing his former Patron's abhorrence of pretension, he included just six lines to his description that paint a very different picture.
'He was a very excellent and agreeable Companion, when he was perfectly well, I say when he was perfectly well; because being apt to drink more than did him good, he was sorely afflicted with the Gout by intervals: and either that, or some constitutional Disorder, occasion'd him to be, one while, deeply melancholy; & then again, in the other extreme, tout jour gay, all alacrity, vivacity and action; which vicissitude I observed to attend him, a great part of his life.'
His candid, posthumous account of Roger Penn, in particular his generous conclusion that, 'In short, few people have less faults, than he had; & much fewer have so many vertues', would appear to display the same broad­minded generosity of spirit that he ascribed to Roger Penn and helps explain their apparently close friendship across a considerable social divide, The fact that both were childless may have been a further bond.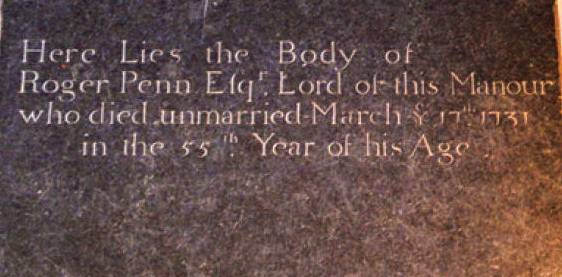 Robertshaw observed that 'As he (Roger Penn) was born, so he died, the last of all his Family, in March 1731/2 (i.e. 1732 in modern dating) being buried on the 20th at Penn, near his own Seat in the Middle Isle', and noted that 'The Penns, Hampdens, & Tyrringhams are commonly esteemed the oldest Familys in Bucks'. He also noted that Roger Penn had died unmarried and intestate and so the Penn Estate had descended through his only married sister Sarah to the Curzon family.
Roger Penn's three older brothers all died young before he was born and so he grew up always knowing that he was the last male Penn heir. The pressure on him to marry and continue the Penn family line would have been very strong. As a rich and very eligible bachelor he would have had a wide choice of brides and so the decision not to marry against this weight of family expectation must have weighed heavily on him. We can only speculate why this clever, articulate, generous, hospitable, but unstable and tortured man did not wish to marry. He seems to have been a manic depressive and it is also possible that he was a homosexual at a time when it was completely unacceptable. Sodomy was a capital offence for which three men were hanged in 1726.
His last years were marked by great unhappiness. In 1728, his three surviving sisters, some 20 years older than him and effectively surrogate mothers, two of whom were unmarried and probably keeping house for him, all died within months of each other. Robertshaw himself resigned as Vicar of Penn in the same year and went on to be Rector of Amersham. This series of blows may well have been too much for Roger Penn and led to the final descent into 'a crazed condition' and his early death, not quite 55. His failure to make a will adds to the evidence of a confused and unhappy last few years.
© Miles Green, 26 December 2003